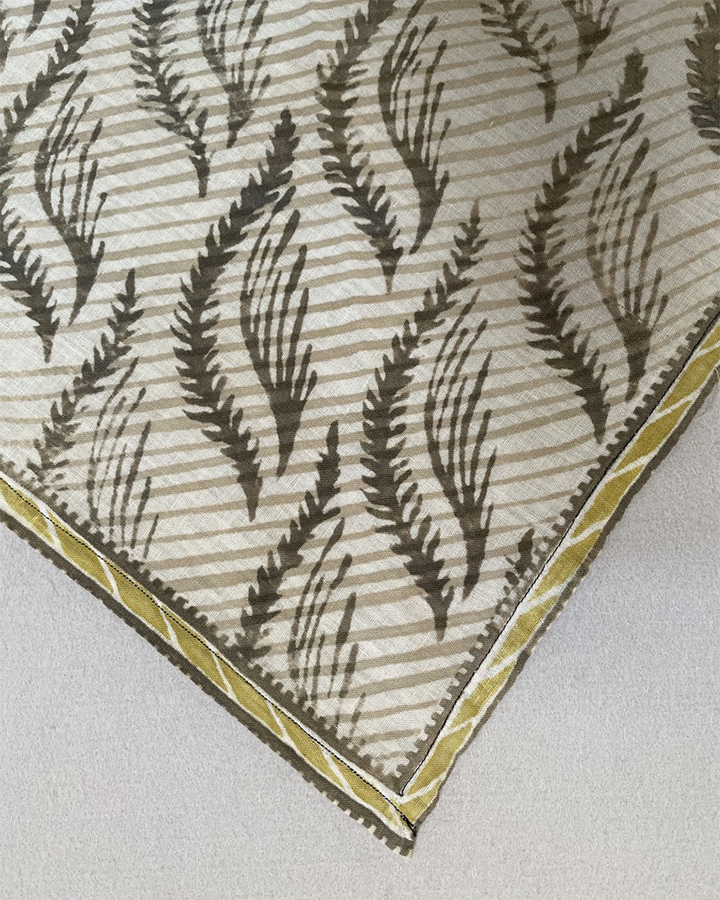 Diana Low Scarf
Late 1930s
Designed and hand block printed by Diane Low (1911-1975). Charlotte Bawden, Edward Bawden's wife, taught Diane when she attending Cheltenham Ladies' College,and corresponded when she attended the Slade, followed by time in Paris. As a young painter of oils she was heavily influenced by family friend William Nicholson, with whom she had a short affair after leaving school. Returning to London from Paris she became part of a sophisticated Bohemian set with friends in the Architectural Association, including her sister Lolly, Humphrey Spender, her future brother in law, and his brother, the poet Stephen.
Charlotte invited twenty-two Diana to Brick House, Saffron Walden, where the Bawden's and Eric and Tirzah Ravillious shared a house. Eric Ravilioius immediately fell in love with the very attractive Diana and they had a short affair. Soon after Diana married Clissold Tuely, a young architect and had a child. They moved to Underhill Farm, near Rye, East Sussex, her affair with Eric resumed in May 1938. Apart from painting, Diana had started to develop fabric designs, some she printed herself with a few printed commercially.
Diane Low* contributed to the manufactured textiles display at the British Pavillion at the 1937 International Exposition of Arts and Techniques in Modern Life.** She designed rayon and cotton satins and went onto design for Allan Walton. One design is known to have been sold at Dunbar Hay craft shop whether at 20 Grosvenor Street, or their later shop at 15 Albermarle Street.
This scarf was owned by Susan Parkinson the ceramist whose work, with her husband Richard's, is in the V & A.
For a similar border line scarf see the photo, illustrated in Andy Friend's excellent book ***
Cataloguing
of triangular shape, the natural/beige cotton coloured ground hand block printed with sage green leaves printed onto a natural/beige irregular stripe, the narrow acid yellow border edged with dentil moulding type design.
4 ft x 22 in or 1.25 x 56 cm
Condition
Excellent.
Comments
* The scarf was kindly identified for me by Lotte Crawford.
** Ravilious & Co Andy Friend p 212
*** p 247. 8.7 & 8.8 - Design on Paper (above) watercolour late 1930s, hand block and printed scarf (below), late 1930s.
T.743-1974. A screen printed linen designed by Diana Low for Allan Walton isnow in the
V & A.
Price: £550 | $670 | €650