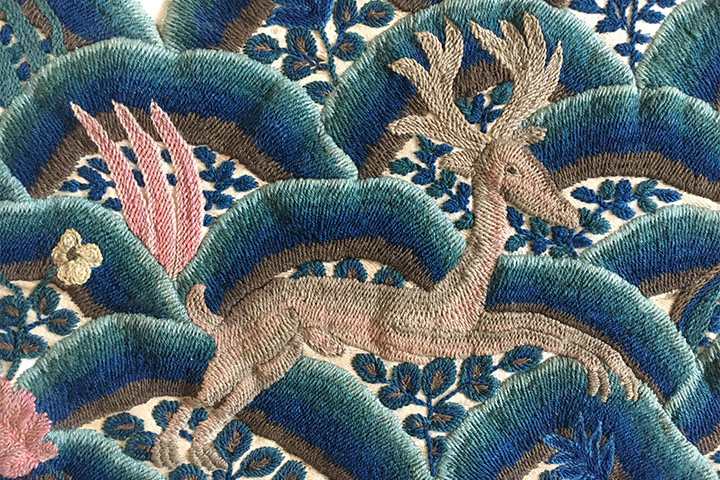 SOLD
Crewelwork Panel
c 1710
This is a rather fabulous piece because it has the hunter blowing a horn and a dog chasing a stag. It is from the bottom of a bed hanging. We can date this piece from the style of the hunter's shoes with thick heels and upturned square toes.
Cataloguing
The huntsman blowing a horn and holding a gun in his other hand, dressed in red cap with a white brim, a blue coat with lighter blue dashes, beige belt and red cuffs, beige breeches and red stockings with brown tops, brown heeled shoes, following the brown spotted white hound, with tongue hanging out chasing the stag, worked in browns and pink, all on a hillocky ground shaded in five colours, two greens, two blues and a brown where upright pink flowers and leaves emerge, all worked in crewel wools, in long and short, satin, French knots and other stitches, on a fine natural twill weave ground.
10 in x 32 in; 25 x 81 cm.
The antique gilded frame about 10 years old. 13 x 35 in; 33 x 90 cm
Condition
Excellent. You will see the hunter has part of his left side missing. Unfaded and in brillant condition. It has been re applied to a twill weave linen for framing.