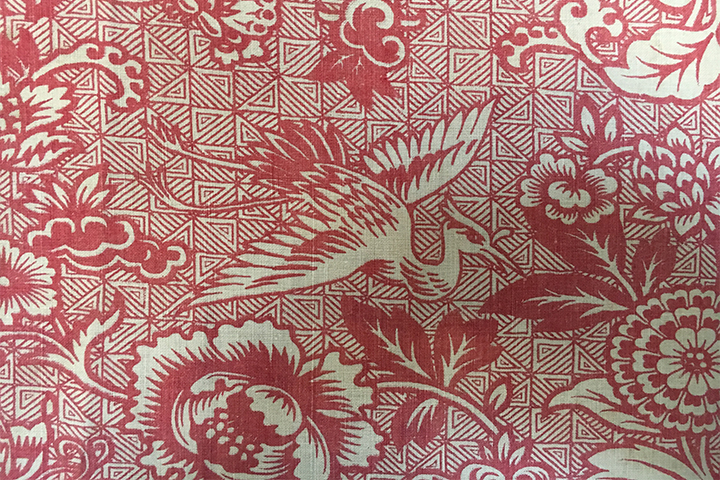 Christopher Dresser
1875
The Wheel of the Law also called The Wheel of Truth exemplifies the crushing effect of Buddha's preaching upon all delusions and superstitions, just as a wheel crushes anything it passes over.
Cataloguing
Cranes and Flowers roller printed cotton designed with Japanese and Chinese motifs, cranes flitting amongst peonies and chrysanthums, a pomegranate bursting with seeds, butterflies, cloud bands and the Buddhist symbol The Wheel of the Law, a fretwork ground, all in soft red on light cream,
14 x 33 in; 36 x 85 cm wide selvedge to selvedge.
Condition
Very good. The fabric is reversible. The other side is faded and must have originally been the top side.
Comments
For similar see Dresser, Christoper Japan, its architecture and manufacturers. c 1882 (Longmans, Green & Co. Copy in V & A gallery.
Similar piece in Arts & Crafts Textiles in Britian. An exhibition at The Fine Art Society, New Bond St, London. Item 13.
Linda Parry, ex V & A had seen this design before in blue. Probably manufactured by a Lancashire printer for the export market, presumably USA.
Price: on request