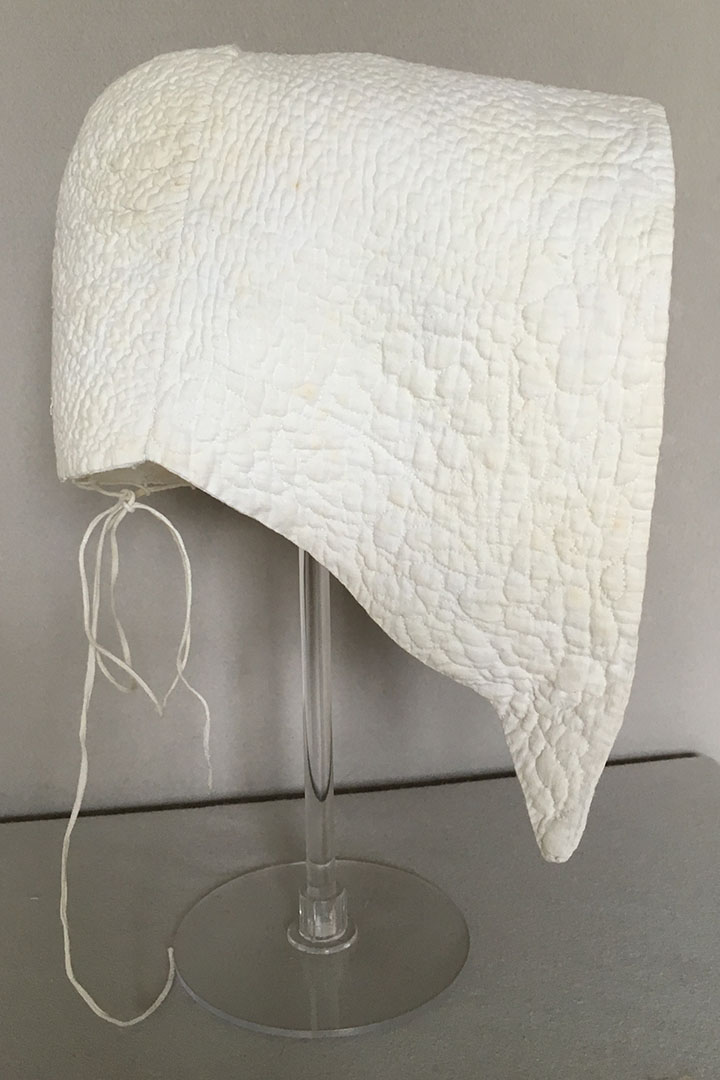 RARE Cord Quilted Cap
1675-1700
Wonderful shape. This reminds me of The Handmaid's Tale by Margaret Attwood, recently televised. Bought in Friesland, Holland. Photographs seem to accentuate any stains. I find when clients receive a marked item, they tell me it is better condition than in the photographs. Phew.
Cataloguing
The cap front section with a wide border 2 in; 5 cm quilted with a design starting centre front and changing to the outer corners, with large stylised flowers, within the border a flowerhead at the corners with simple quilting beyond, the back crown with very simple quilting, with large linen corded loops to the base and simple narrow tape for gathering at the neck, the crown very gently gathered into the front section.
Front brim point to point 25 in; 64 cm.
Condition
So nice having the original loops and tapes at the back. There are two very small rust marks. The cap appears to have very very very slight yellowing here and there. I feel sure a conservator could remove this.
Comments
The photo of two caps is from An Moonan's book A history of Dutch Quilts. Van Gruting Publishers 2010 page 38 p 38,39 she refers to three ladies' caps made in the Netherlands around 1675-1700 which are in the Netherlands Open Air Museum.
https://www.geheugenvannederland.nl/en/geheugen/view/matelass-vrouwenmuts-herkomst-onbekend?query=muts&page=1&maxperpage=36&sortfield=relevance&coll=ngvn&period=1600%2C1700&identifier=NOMA01%3AK50-81
https://www.modemuze.nl/collecties/muts-16
Price: on request
Ref N°: 932