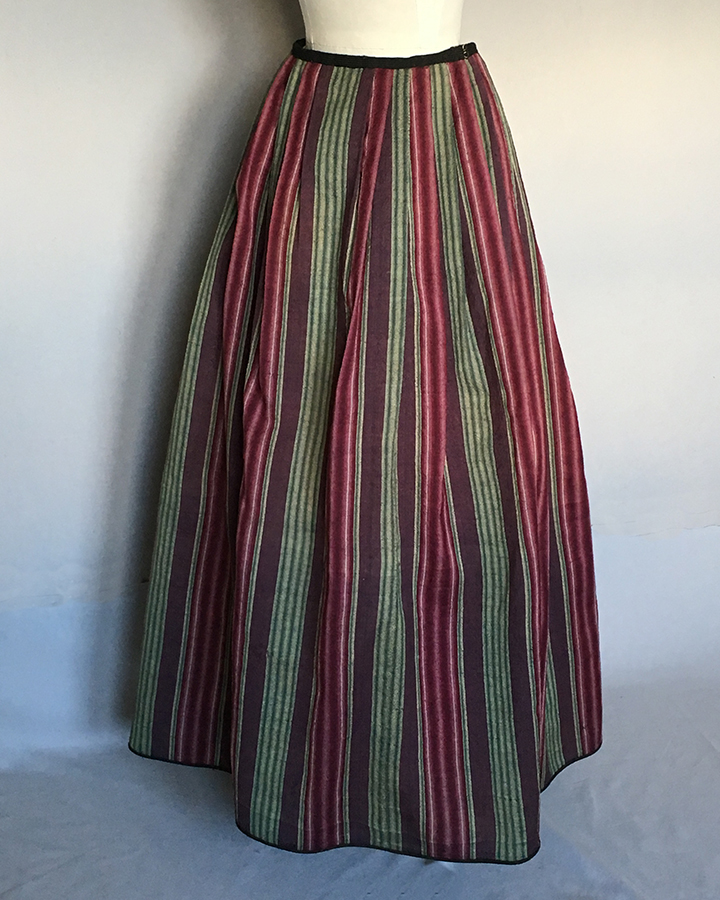 SOLD
Norwich Camlettine Skirt
18th c fabric
An 18th century skirt (grein) re made in the mid 19th century. This hard wearing fabric was woven in Norwich and exported to The Netherlands where it was made into skirts and worn by rich merchants wives. During the 19th century farmer's wives would re make the 18th c fabric into underskirts.* Gentleman also used this fabric in the 18th century for waistcoats and jackets.
The print shows a woman wearing a similar skirt.
I do have some lengths of Camlettine in pale mauve with black stripes. They are not in good condition but would be of interest to weavers and textile historians and they are very inexpensive! Do ask.
Cataloguing
of striped worsted camleteen, made up of eight widths of fabric, each 14 in or 36 cm (selvedge to selvedge), a central front wide flat pleat 3 in; 8 cm, pocket slit on right hand side, gathered into a brown tape waistband with large brass hook and eye, the hem with a narrow brown wool protector, hand sewn,
Waist 27 in or 70 cm; length 3ft 6 1/2 in or 1.08 m.
Condition
Overall the skirt looks clean and fresh. There are small areas of wear here and there, but quite difficult to see. You have to look hard to see them or hold the skirt to the light.
Panel one from the left hand fastening. Couple of areas of wear near the hem.
Panel 2: There is a 1 in; 2 cm weak area to lower skirt.
Panel 3: The brown braid dust protector is damaged.
Panel 6 & 8: Similar slight wear to lower section.
The skirt has horizontal crease two thirds of the way down. In the 18th century skirt it would have had a tuck. Also at the bottom there is a crease where the skirt has been let down.
Comments
*See my ARTICLE on Norwich Stuffs
http://www.geheugenvannederland.nl/nl/geheugen/view/peelrok-noord-brabant?
https://collectie.friesmuseum.nl/?diw-id=tresoar_friesmuseum_T2003-383
Textiles in America 1650-1870 by Florence MMontgomery, Plate D66. A Norwich pattern book c 1785.