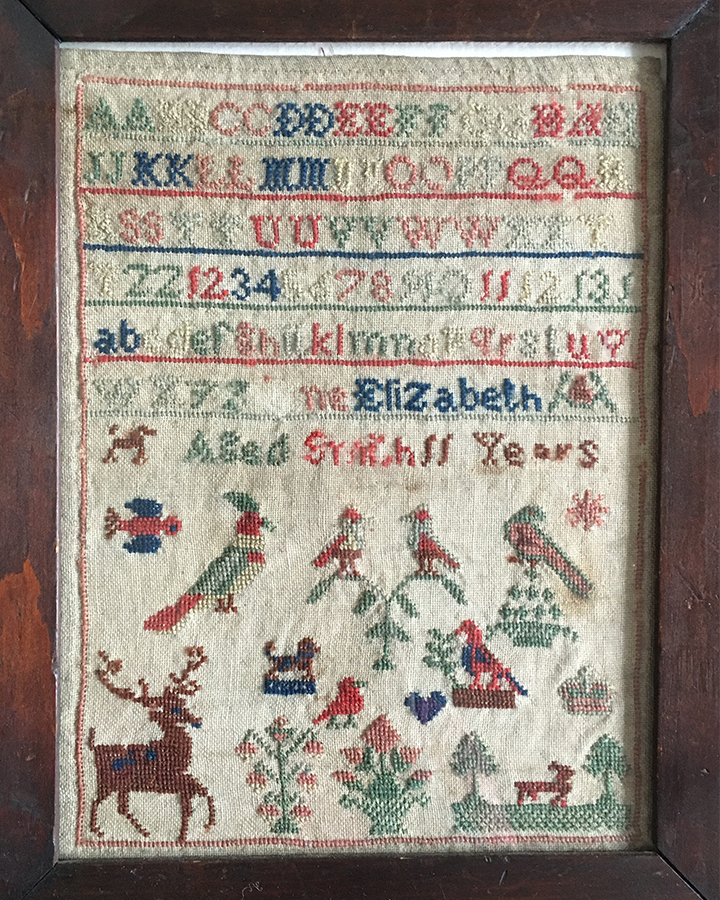 Yorkshire Sampler
mid 19th c
by Elizabeth Spofforth is a Yorkshire name. A charming country sampler worked when Elizabeth was 11 years of age. There are markings on this sampler, see below, but it would be a sweet sampler for someone you know called Elizabeth.
Cataloguing
The alphabet in upper case on top three rows, with each letter appearing twice, above a lower case alphabet and the young woman's name Jane Elizabeth Smith, aged 11 years, the lower panel with birds perched on a tree, flying birds, a parrot, a dog, stag and vases of flowers, all in wools in shades of vermillion, blue, brown, pale green and pink, on a linen ground.
Condition
We have had this hand stitched to a calico ground, which is stretched over acid free board and framed in a original stained pine frame.
The wool has come away on Jane. There is one small stain to the tail of the first bird on the right. There are also slight markings below the last line.
Price: £120 | $150 | €130