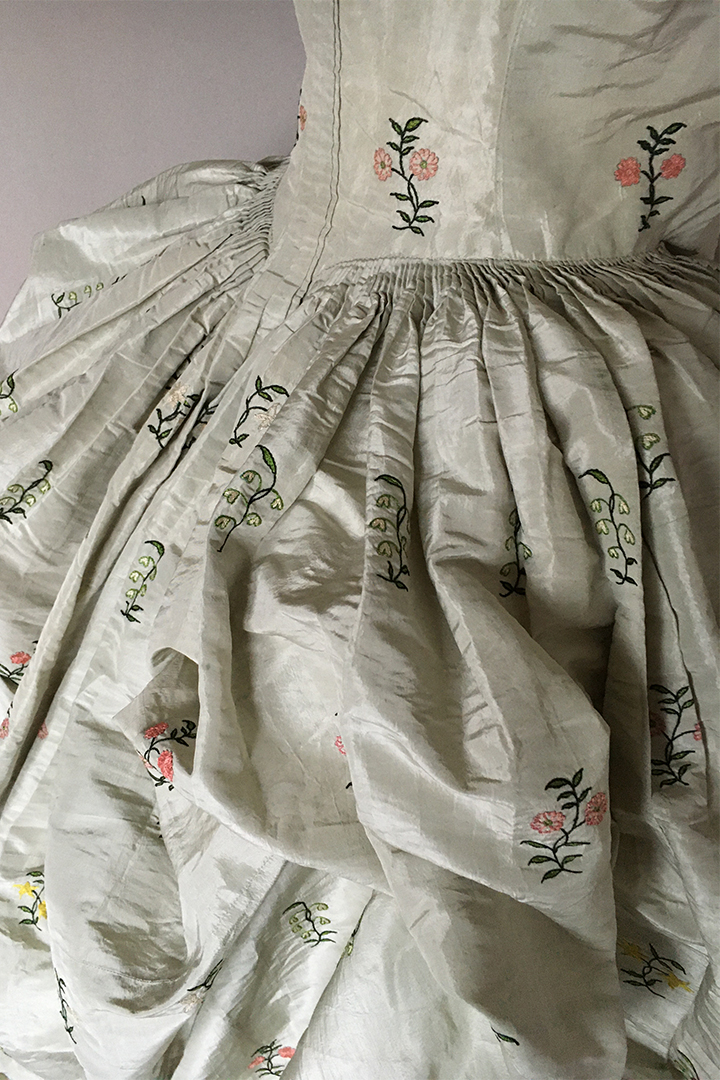 Embroidered Robe l'Anglais
1770-80s
An open robe. The eau de nil has a silver lustre and must have looked delicious by candlelight. One delightful feature is that on one undersleeve there is the drawing in ink of the flower stem, but it has not been embroidered.Perhaps this was a Polonaise robe, but there are no loops or tapes inside the skirt for raising it.
Clearly imitating woven brocade with a small sprig motif so fashionable at this period. Embroidering would have been much cheaper to produce than a woven silk.
Cataloguing
The fabric: The eau de nil silk faffeta with a silver lustre, hand embroidered with 2 inch or 5 cm flower sprigs, four designs - a coral sprig, a yellow, and two different white flowers, including lily of the valley, with green leafy stems.
The Robe - having gathered and pinked frill to the scoop neck, bodice closed cenre, dropping down to a curved centre, just above elbow sleeves, the front skirt with similar but wider flat pleated pinked frill, the back bodice with squarish neck, four sewn down pleats tapering from top to lower bodice and into the skirt, tight cartridge pleating to the skirt, two pocket side slits, the two back panels with horizontal seams, long train, the bodice lined with linen, seven hand made loopps in the lower inside of the bodice (for securing underwear, the lower skirt lined with fine Chinese eau de nil silk, all hand stitched with
Bank shoulder to hem 65 in; 1.16 m
Bust 34 in; 87 cm.
Condition
This robe has clearly been altered from an earlier one. The bodice front has some crease marks. There are two very old, 18th c I would say, darns to the front closure section. They are very neat and one does not notice them unless you look hard. Very very good. There are two half round grey marks to the right hand side of the skirt, just below the pleating. The very back hem is a little grubby. Do ask for photos.
Comments
Costume in Detail by Nancy Bradfield p 51.
Price: on request
Ref N°: 8330