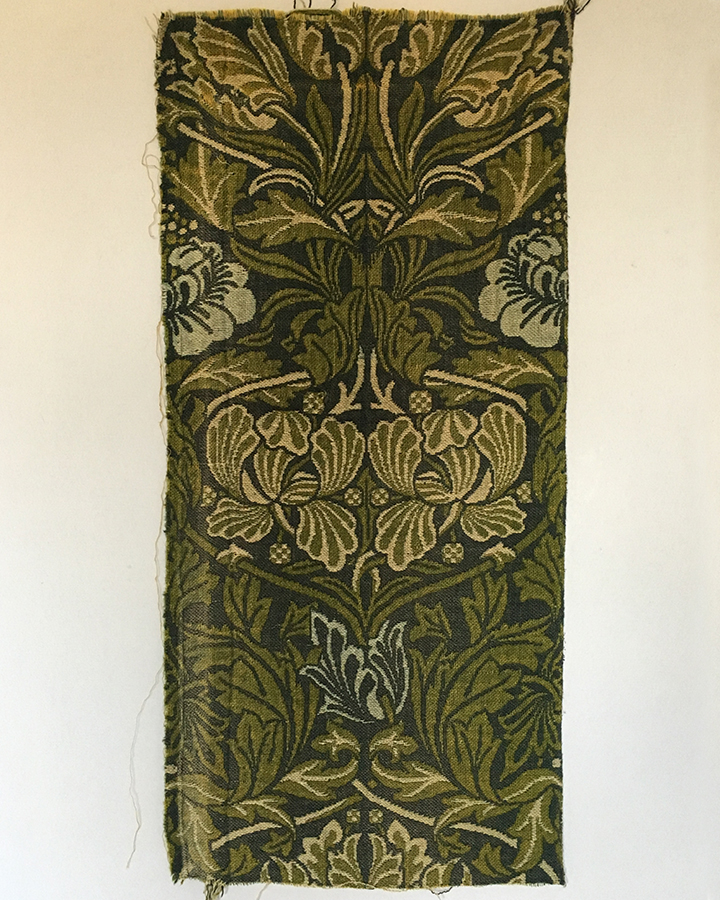 SOLD
Tulip & Rose
1896
A narrow piece of a Morris enthusiast, who cannot afford a loom width. As always marvellous design.
This design was registered as a fabric on 20 January 1876 and woven by the Heckmondwike Manufacturing Company Ltd, Yorkshire, England. It was one of Morris's first designs. Heckmondwike's exhibited fabrics at the Great Exhibition of 1851 where the jury described the great perfection of Morris & Co work both in excellence of materials and elegance of design.
Cataloguing
The centre woven with pairs of sage green and beige parrot tulips and small fruits, within leafy stems, above a pale blue tulip, flanked by acanthus leaves, pale blue roses and more pairs of parrot tulips above, all on a dark green triple cloth wool ground.
16 1/2 x 35 in; 42 x 90 cm
Condition
As you should be able to see the right hand side has slight fading to 2 1/2 in; 6 cm. The left hand side is neat, but the other three sides need oversewing, to tidy them, ready for hanging.
Comments
See: William Morris Textiles Linda Parry p 210, no 18