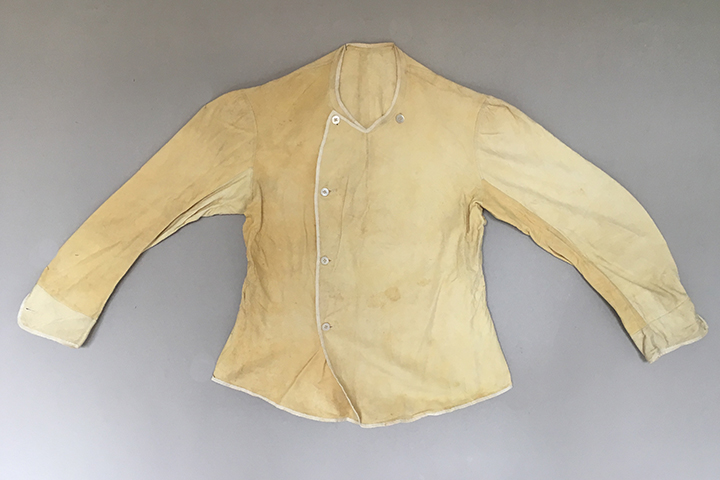 SOLD
Chamois Underwear Suit
Last quarter 19th c
Such an extraordinary outfit but it would have kept you warm if you were a soldier, gamekeeper etc. We had thought the suit was a fencer's but I have been reliably informed by a friend who knows about men's wear, that it is more likely to be underwear. The suit may be slightly early than the date I have given, it is all machine stitched but difficult to tell.
Cataloguing
Of chamois leather, the jacket with right hand side opening, round neck with a front neck dart, four opaque buttons to left hand side and a further one top right (as you look at the jacket), curved lower front, the sleeves withj shaped cuff, same button and hand stitched buttonhole, all edges bound with white twill weave cotton tape.
The trousers with fly front , hand worked buttonholes, five opaque buttons, a front V section with two machine stitched lines either side of flies, the back with pieced V section, the knee area with a horizontal join, the trouser bottoms with two buttons INSIDE of the welt, lined with a sateen type cotton, the front and back waistband similarly lined.
Condition
Jacket. Slight rubbed chamois to front top area. Light stain 1 inch; 2 cm diameter to lower right front. The sleeves have two different colours of chamois, one slightly lighter. The cuffs have used slightly lighter chamois. There is another similar mark to back lower left1 inch; 4 cm circular. Another lighter but similar below.
The trousers are in very good condition. A slight mark to the middle left leg, as you look at it. Small mark back top left.
Comments
From a Canadian catalogue of 1899.