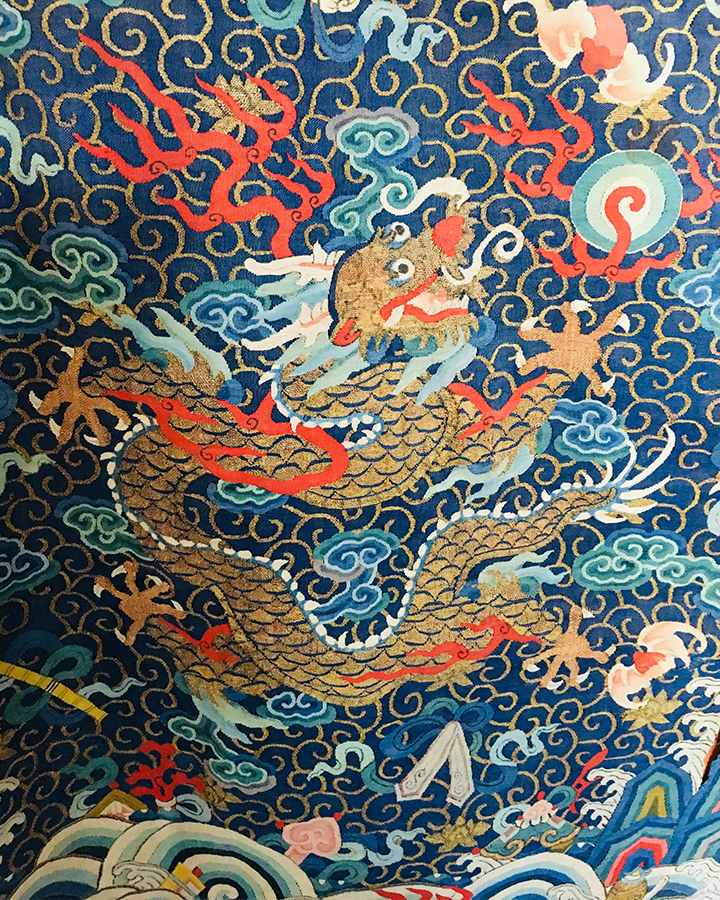 SOLD
Kesi Dragon Robe Ji fu
Third quarter 19th century
This ji fu is woven in the silk tapestry technqiue. Kesi or the 'cut silk' technique was the most desirable form of weaving in China. It is named after the vertical slits which occur where one colour ends and the next begins. Today it is also the most sought after technique because it was the most time consuming and complicated to weave. Kesi patterning is hand-controlled; pattern wefts are inserted only in the areas required by the design, turning threads back on themselves in the next shed. The weaver manages numerous silk bobbins in a variety of colours, plus one of gold thread. Gold leaf is beaten onto paper strips which are wrapped round a silk thread core. Finer details were added with a brush and ink. The gold coiled ground is quite unusual as are the copper gold and gold shades used.
These robes were worn for semi-formal occasions by court mandarins, who could be either Manchus or Han males. The robe was not considered complete until worn by a human. Nine (dragons) is associated with man in ancient Taoist numerology.
Buddhist and Daoist symbols are scattered in the sky. These denote long life, happiness, wealth and male progeny. .
* Buddhist symbols. Eight symbols were brought from India by Buddhist missionaries. Four were royal emblems associated with the Buddha, the canopy; conch shell, vase and umbrella. Four symbolised religious tenets, the wheel of law, endless knot, lotus and fish.
** The Eight Immortals (Daoists) were persons who, for various reasons and in diverse ways, achieved immortality. Their attributes symbolized the successful search for everlasting life and became associated with wishes for good fortune. The robe has the pair of castanets belonging to Ts'ao Kuo-ch'iu; the basket of peaches of Lan Ts'ai-ho; the sword of Lu Tung-pin; the pilgrim's gourd of Li T'ieh-kuai; the bamboo tube and rods of Chang Kuo Lao; Han Hsiang-tzu's flute and Chung-li Chuan's fan.
Bats always feature on robes. They are a visual pun: the Chinese word for bat pronounced fu, sounds the same as happiness. It is written with a similar although not identical character.
Cataloguing
The nine full or side facing dragons with five claws are coiled round flaming pearls (the elixir of life), in a cloud filled sky, with gold coiled ground, bats (happiness) flit in the sky filled with Buddhist symbols* and the attributes of The Eight Immortals**, all above lishui waves and seaspray, the neck and front facing band, also with dragons, edged with gold and black brocade, fastened with brass engraved buttons and silk toggles, side fastening opening to reveal the ninth dragon, long sleeves with plain black horizontally corded silk bands, culminating with horseshoe cuffs, also woven with dragons, some details hand inked.
Arm span: 6ft 7 in; 2 m.
Shoulder to hem: 57 in; 1.45 m
Condition
Very good. Fresh and clean. The curving border round the neck is also from another robe, but a good match. These were the most vunerable areas on a robe and often were replaced with pieces from other robes. There are also a few areas of damage to the front of the robe which have been restored.
Comments
There is an earlier dragon robe with similar gold coiled background in the Royal Ontario Museum. 919.6.11.
For more see Bibliograpphy on my website.