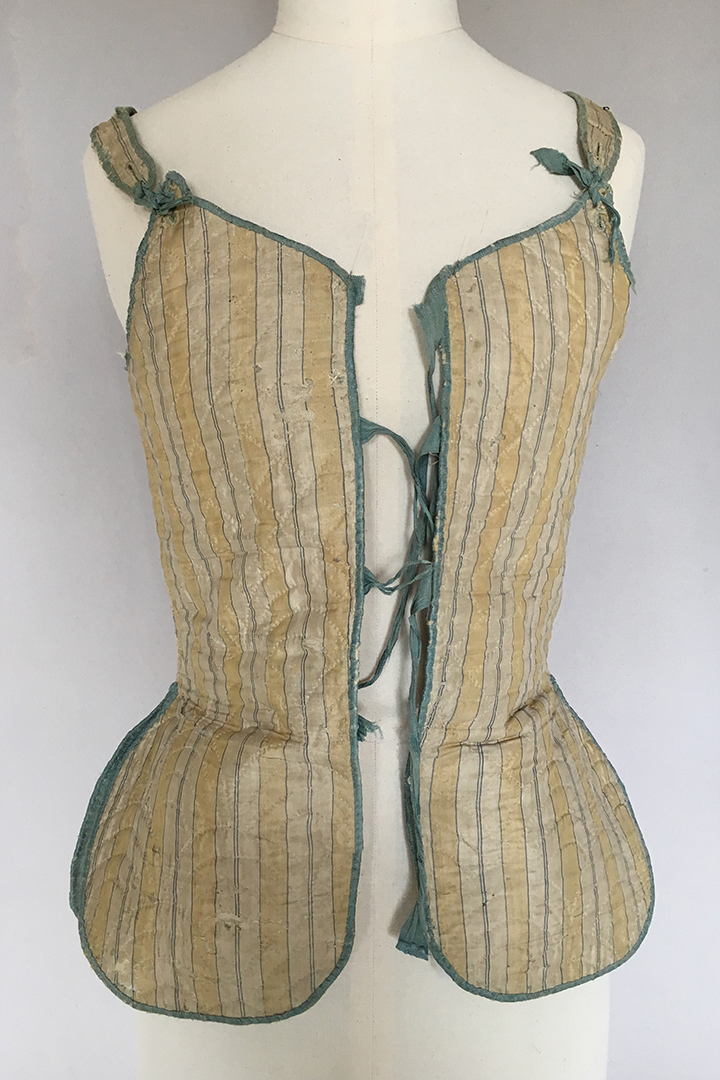 Rare Quilted Jumps
Early 18th c
Jumps or a waistcoat, were unstuctured and worn instead of boned stays or corset and would have been warm and practical.. Usually worn as informal wear indoors with a petticoat, which was often quilted, The word derives from the French jupe, a short jacket. Working women would have also worn more utilitarian examples.
This pair, unusual being made of silk, have been made from a bedcover or petticoat. The design to the front is not quite symmetrical. Not in the best condition, but being of silk they would have been quite vunerable when the ribbons were pulled for closure. When buying a rare but damaged piece I always ask myself but when did you last see a pair and when will you see another?
In Fashion in Focus* Grace Evans comments that this type of quilted waistcoat is rare in mueum collections, because they were everyday wear and did not last.
Cataloguing
The striped silk with a pale primrose yellow stripe flanked by narrow navy lines between double cream stripes, all the edges bound in duck egg green silk ribbon, the shoulder straps integral in the main jumps, rounded to the front with a hand stitched eyelet hole, tied with silk ribbon attached to the main section, the front with three ties of ribbon, the lower section rounded at the base in four sections, the whole upper section quilted with a diamond design, the lower with overlapping groups of arches.
The inner top section is lined with a napped wool , the lower curved section of glazed linen and wool?. Interlined with a quilted silk/linen batting.
The quilted diamonds 3/4 in; 2 cm. The arches, the widest 3 in; 7.5 cm
Underam: 27 in; 69 cm
Shoulder to hem 19 1/2; 50 cm
Condition
As you look at the jumps the design on the left hand side is different from the right, showing they were made from another item of clothing or furnishing.
Generally slightly marked. the three front right hand ribbons are in tact but the left hand side ones have disintegrated. The shoulder ribbons are just there. The left hand side as you look at the jumps has a small area of holes. A further hole near the shoulder ribbon. Just below the waist there is a hole, and a few more lower down. The right hand side has a hole near the top ribbon. Ther is a hole to the right hand side, just above where the ribbon curves. The ribbon round the armhole is missing to the lower section 6 in; 15 cm. The back of the jumps have a few small holes and one 2 cm across. Some wear to the ribbon edging. Ask for photos.
Comments
What Clothes Reveal by Linda Baumgarten p 148 for similar.
http://thedreamstress.com
* The Corset by Valerie Steele, p 27
*Fashion in Focus 1600-2009 by Grace Evans. p 45
Price: on request
Ref N°: 8365