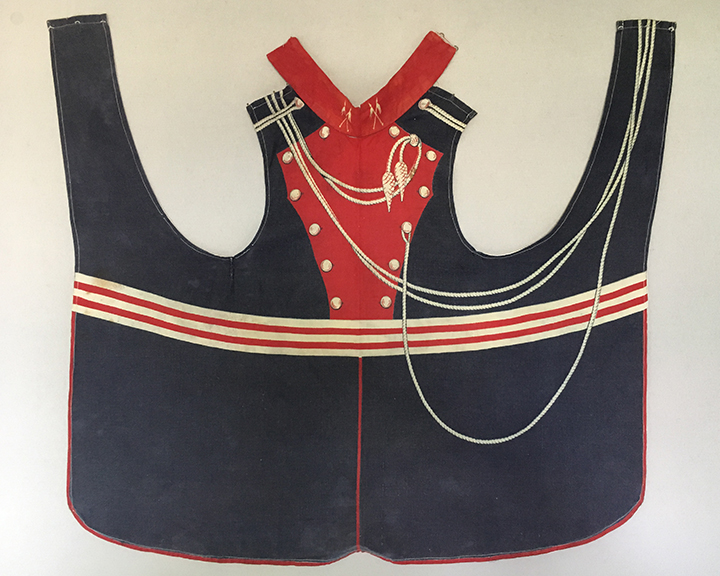 SOLD
Dean's Rag Book Co
Early 20th c.
Dean's Rag Book Co Ltd was founded in 1903 by Henry Samuel Dean and was an off-shoot of the Dean & Son publishing firm that specialised in children's books.
Originally set up to make rag books, Dean's soon diversified into rag sheets and soft toys, including teddy bears. This Lancer's trumpeters boy's outfit is clearly from a rag sheet. They were producing teddy bear sheets in 1908 so perhaps this also dates from that period.
Cataloguing
labelled with Dean's Rag Knockabout Toy Sheets. Washable and Hygenic,Registered Trade Mark, the high neck printed with cross flags, the front with imitation brass buttons and cords, the centre with horizontal red and white stripe, the open back securing with hooks and eyes on the shoulders, all on a blue cotton ground.
Length 22 in; 56 cm
Width 27 1/2 in 70 cm
Condition
Clearly been worn, loved and washed. There is a 1 in; 3 cm repair under the arm on the left hand side. The left hand side also has a few light brown markings near the edge. Ask for photos.
Comments
www.vam.ac.uk/moc/collections/deans-rag-book-co-ltd/