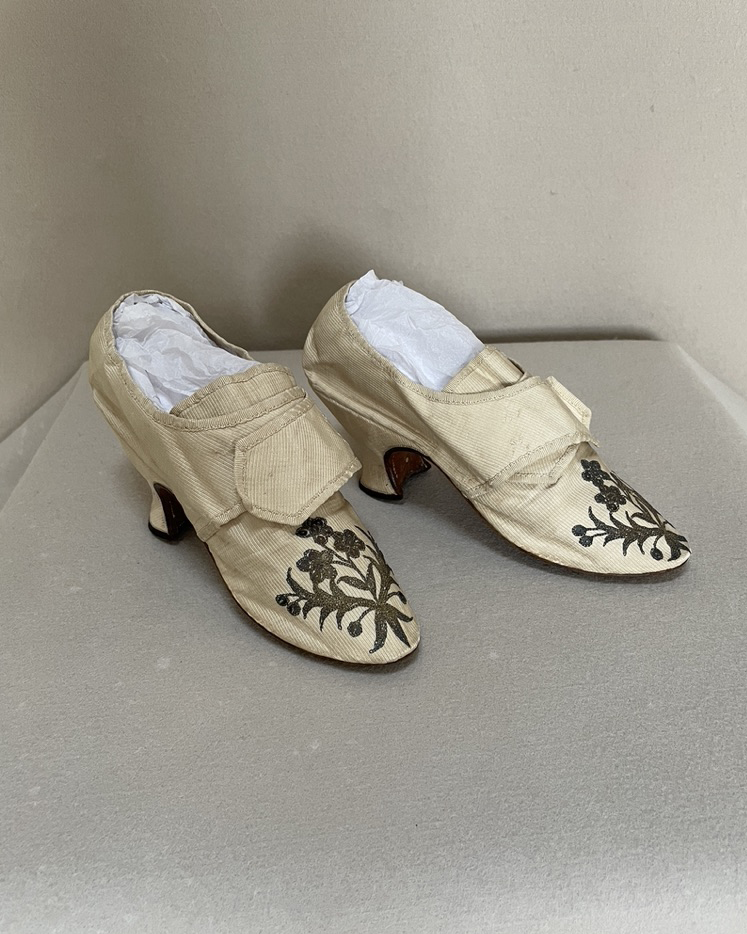 Louis Heel Shoes
1770-80s
Provenance: from the Penrose Estate, Porthleven, Cornwall. For several hundred years the house remained with one Family. Between 1750 and 1770 Hugh Rogers negotiated the buying of the house, which he bought in 1771. For several hundred years the house remained with this family. He married Anne Bishop, the daughter of James. Their son John Rogers (1750- 1832 ) married Margaret Basset (d 1846), the daughter of Frances Basset of Tehidy, Cornwall. John a lawyer and politician was MP for Heston, Cornwall who sat in the House of Commons between 1775 and 1786. It is more than likely that the shoes belonged to his wife Margaret who he married in Sept 1776.
Margaret's brother was Francis Basset, 1st Baron de Dunstanville and Basset, painted by Sir Joshua Reynolds and Pompeo Batoni (Prado, Spain).
Cornish care worker, 31 year old John Rogers, proved he was the illegitamate son and legitimate heir to a £50m Penrose mansion, made headlines in May. Rogers decided to sell some of the treasures in the house.


Cataloguing
The ivory ribbed or grosgrain silk ground with gold work decoration to the fronts, three small flowers composed of spangles their petals outlined in goldwire, with flowing leaves all worked in gold chainstitch, the shoes with high Louis heels (2 3/4 in; 6 cm from the back to the ground) with crossing latchets, domed fronts and rounded toes, back seam, the binding of similar silk grosgrain, the soles of leather with punch holes, lined in linen.
Heel to toe 7 in; 18 cm.
Overall 8 1/2 in; 21 cm
Condition
In excellent condition. The gold spangles and wire is slightly tarnished. The latchets have a a very little wear, from the buckles which would have secured them. There is wear to the soles but the tops are quite clean, so perhaps worn indoors.
Comments
www.collections.vam.ac.uk/item/0351523/pair-of-shoes
Price: on request
Ref N°: 1007