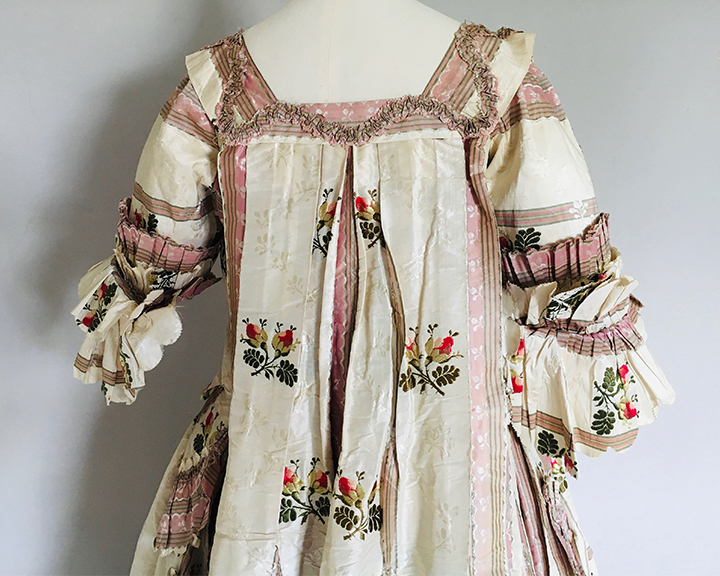 SOLD
Sack Back Robe
1760s
This robe would have been worn with a stomacher. The cuffs are facing upwards which I don't recall having seen before.
Cataloguing
Fabric - Silk tafetta woven with a double stripe of a repeat design of rosebuds in three shades of pink and two of green, 2 1/2 in ; 6.5 cm high, on ivory stripes woven with a small damask zig zag design of leaves and self coloured small groups of flower sprigs, with a pale pink and green ribbon stripe between each stripe, flanked by wide stripes of a scalloped pink ribbon design woven with small ivory sprigs,
The Robe - Pink and green scalloped ribbon to the front, the lower bodice projecting down to the petticoat, elbow length sleeves with elaborate pinked ruffles, weights to the inner sleeve, the skirt with six rows of cuved and gathered ruffles to the front sides, the back with a deep sack back and flat inverted pleats, trained.
The skirt - With side slits and opening, thw waistband with narrow silk tape, the centre front and back with a flat panel flanked by pleats 2cm wide, the front with three deep panels of same fabric scallolped at bottom. the back partly lined with Chinese ivory silk.
Shoulder to top ruffle 29 in; 74 cm.
Condition
The robe - I think the front robings are correct and have not been reduced. Photos of course. The left hand one is slightly faded near the bottom.
Under the right hand robing are two black dots. The first pleat to the left hand side of the skirt is coming away from the bodice ie the silk is slightly frayed. There are a couple of minute black dots half way down on the right hand side to the back skirt.
The two large pleats to be back of the gown have markings (water?) to the middle section. The left hand size is an area of 20 x 17 cm and then a little narrow mark 12 x 2 cm and to the right hand side 28 x 17 cm deep.
The tape ties have worn and been replaced with twill weave tape ties. No underarm staining. The hem is very clean. The linen underbodice has been cut.
The petticoat is in very good condition.
Comments
Costume in Detail Nancy Bradfield p 41