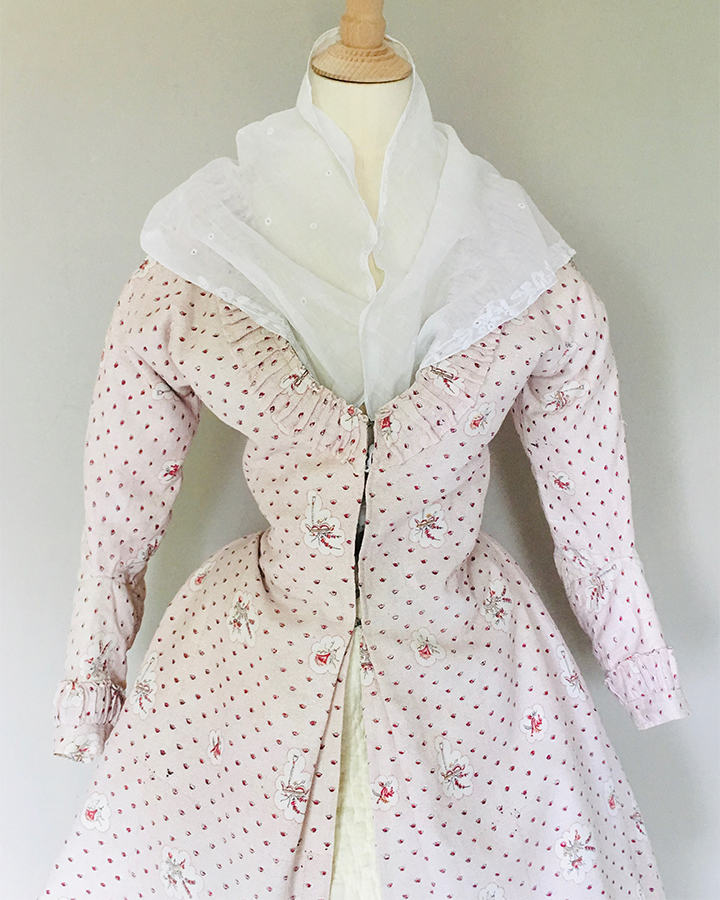 SOLD
French Block Printed Casaquin
1790s
This charming fabric has been cut the correct way for the back of the jacket but the front panels have the design upside down! The fabric must have been precious to the maker, or perhaps it was an error! Another delightful observation is that there are small errors in the printing ie. where the block was placed. Presumably the fabric was a second and cheaper to buy. All adds to the interest. This was a practical garment for working women. Worn with a skirt. The cut of the sleeve in with the bodice is unusual.
Cataloguing
Fabric: Hand block printed with small scalloped vignettes filled with stylised flowers, in a ground filled with miniature pinhead dots and small repeat flowerheads, all in deep pink, black and with touches of saffron on a natural linen ground.
The long bodice with a V neck edged with pleated frill, front closure with large hooks and eyes, the skirts falling to mid thigh, long sleeves , all in one with main body, with insert triangles at the elbows, the cuffs with pleats, the back bodice with a central seam, curving seams at lower waist and into skirt, the sides with open pleats flowing into the skirt, lined throughout with a medium quality linen.
Condition
This is beautifully made with extra linen tape on inside vunerable seams, such as underarm and above the skirt pleating. Very fresh and clean.
Comments
Costume in Detail by Nancy Bradfield p76.