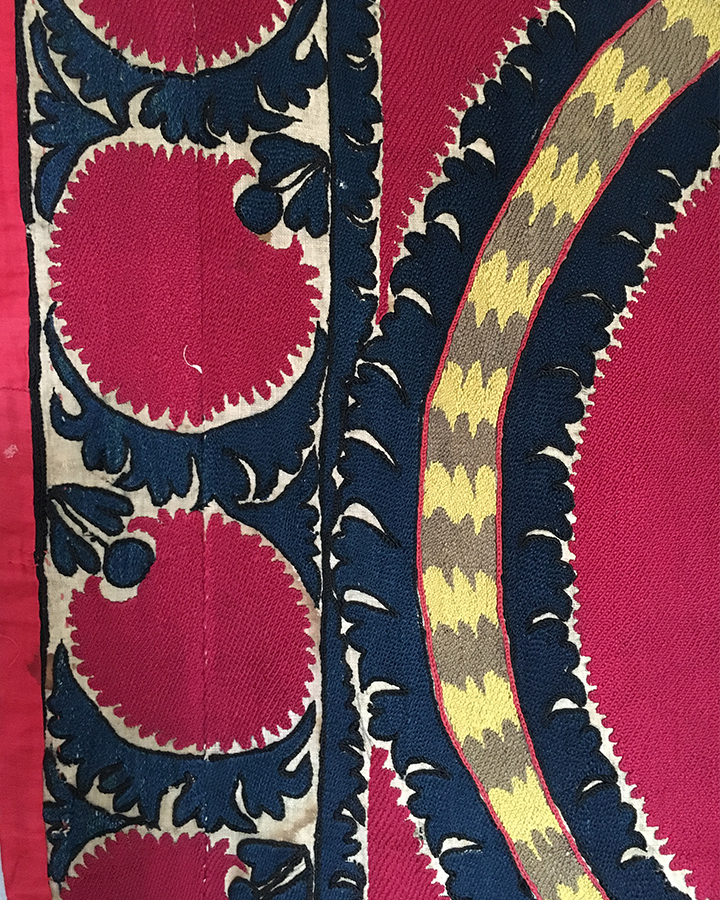 Tahkent Susani
Early 20th c
Stunning colours and design. Be great as a wall hanging and could be hung either way. In Uzbekistan, embroidered wall hangings were produced by settled populations in towns and villages of the region, and used as house and yard decorations during weddings and festivals. Suzanis were an important part of a woman's dowry. Plain, hand-woven off-white cotton was used as a ground material, while embroidered patterns were stitched using multicoloured silks. The majority of Uzbek suzanis are composed of astral symbols and floral designs with scrolling vines, leafy branches and blooming flowers. Embroidered clusters of tulips, carnations, lilies and other flowers are inspired by the flowerbeds and blooming pomegranate trees grown in courtyards where families rested during the daytime heat.
Cataloguing
Six huge moons in crimson silks, each with a central six point star, surrounded by a yeloow and mid brown narrow ring, between two bands of two indigo fronds, edged in black, all within squares with similar indigo and black border, the main outer border with stylised carnations in profile surrounded by indigo and black leaves, edged in red cotton.
8ft 5 in x 6ft 9 in; 2.55 x 2.04 m
Condition
Very very good.
Price: on request