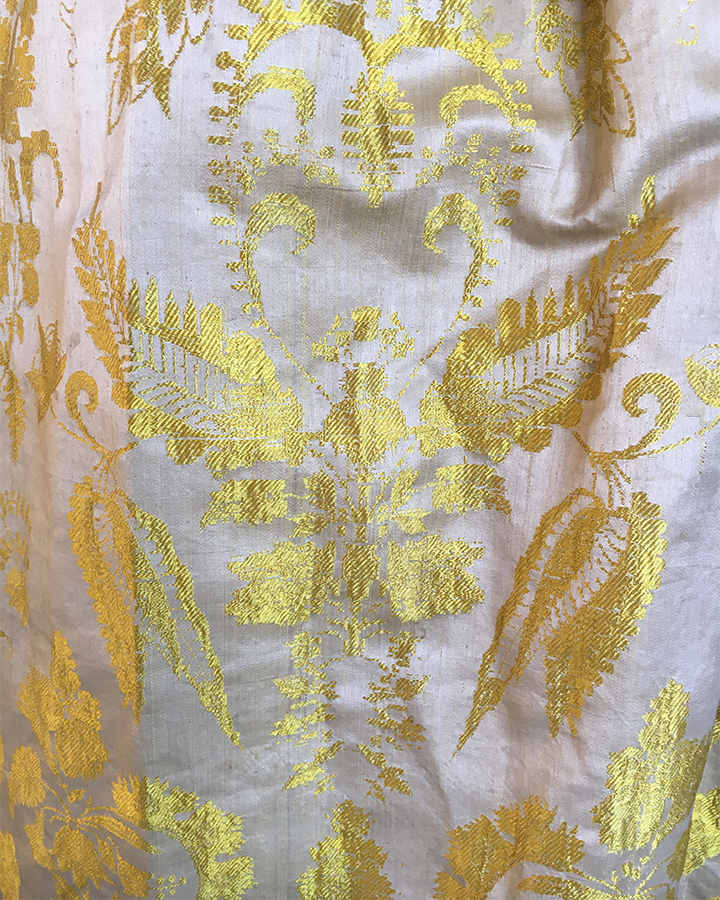 Damask Silk Dress
Silk 1720s ; Dress c 1830
This dress was sold with family provenance. It was said to have been worn at the Earl of Kilmarnock's marriage to Lady Anne Livingstone in 1724, by Margaret Boyd, his cousin and bridesmaid. This reference refers to a brocade gown, when in fact this dress is a damask silk, but that is quite a usual mistake in describing weaves. It is therefore probably the dress but re made in c 1830. The extremely beautiful and expensive silk would have looked stunning as a bridesmaid's dress. Eighteenth century fabrics were expensive and treasured and with huge skirts were often altered or remade at a later date.
The fabric is particularly beautiful and interesting, woven with huge butterflies with outstretched wings. There was of course a tradition of damask weaving in Scotland so it is quite likely the silk was woven there. The pleated neck trim is from the 18th c dress.
Accompanying the dress are some books and papers from two exhibitions, where the dress in it's c 1830 style was exhibited. See References.



Cataloguing
Clear yellow silk damask each panel woven with a huge butterfly with outstreched wings and coiling antennae, amongst stylised flowers and leaves on a nautral ground.
The dress with round neck, applied with delicate yellow pleated trim taken from the 18th century dress, front opening, no fastenings, the bodice gathered into a high waistband, the back bodice with two rouleau trimmed seams from central back to sloping shoulders, the skirt gently pleated, large gigot sleeves piped at shoulders, narrowing to piped cuffs, full skirt, a belt, the bodice lined with cotton, a cotton herringbone wide waistband, the skirt of glazed cotton.
Silk width 17 1.2 in; 45 cm
Vertical design repeat 18 in; 46 cm
Waist 26 in; 65 cm
Shoulder to hem 4ft 2 in; 1.25 m
Skirt circumference 7ft 2 in; 2.2 m
Condition
Very good. The back neck trim has a small area missing and nothing can be done about that. There is a dark dirt line on the left sleeve from underarm downwards.
Comments
* From Wikipedia: William Boyd, 4th Earl of Kilmarnock (12 May 1705 – 18 August 1746), was a Scottish peer who joined the 1745 Jacobite Rising, was captured at Culloden and subsequently executed for treason on Tower Hill. Kilmarnock was educated at the University of Glasgow but he had 'an Aversion to rigorous Study of Letters' and was devoted to 'Riding, Fencing, Dancing and Musick...esteemed by Men of Taste, a Polite gentleman'.
Anne Livingstone was considered an heiress. She married Kilmarnock in 1724 against her family's wishes; money and his lifestyle were constant issues and they lived together 'civilly' if not happily. Anne the only daughter of James Livingston, 5th Earl of Linlithgow, a Jacobite attainted for his role in the 1715 Rising. Her family allegedly opposed the marriage and Kilmarnock's debts meant they depended upon her credit to pay living expenses.They lived at Dean Castle, Kilmarnock, but when it was destroyed by fire in 1735, they could not afford the repairs and moved to Anne's home, Callender House, Falkirk. It's worth reading the full account.
Of course when the dress was loaned in 1888 and 1911 it was not the original early 18th century dress, but had been remade in 1825-30, and it is this one exhibited.
Accompanying the dress were various papers and books.
A handwritten sheet says: Brocade gown worn at the Earl of Kilmarnock's marriage by Margaret Boyd, bridesmaid and cousin of the Earl. About 1726. (in fact 1724). It is given a value of £75.
Two notelets headedThe International Exhibition, Glasgow, 1888. Scottish Archaeological and Historical Section. These are dated March 28 and 30, 1888, addressed to Mrs M J Stewart, The Blair, Crosshill, Maybole. They talk about the loan of the bridesmaids gown worn at the marriage of the Earl of Kilmarnock. One letter asks for a description of the article to be loaned. There is no description.
The Book of the Bishop's Castle and the Handbook of the Archaeological Collection. 1888 pub T & A Constable. Printers to her Majesty. On p 230 in the Arts, Arms, Dress, Furniture etc section, entry 1258: Brocade gown worn at the marriageof the Earl of Kilmarnock, by Margaret Boyd, bridesmaid and cousin of the Ear. Early 18th century. Lent by Mrs Stewart.
Also two Glasgow International Exhibition 1888. Scottish Archeological and Historical Section papers Regulations for Forwarding Loans. There are also two labels printed in red, one in an envelope.
A book of exhibitors: Glasgow International Exhibition. The Book of Scottish History and Archaeology 1901. Written in ink in inside cover: Special Edition. Presentation Copy to Mrs Blair Stewart, Ryefield Place, Prestwick with the complimnts of thr Fine Art, Scottish History and Archaeology Committee. On page 80 item 708 Brocade Gown, worn at the marrriage of the Earl of Kilmarnock by Margaret Boyd, bridesmaid an cousin of the Earl. Eearly eighteenth century. In ink is written about 1726. Lent by Mrs Blair Stewart.
On Scottish Exhibition of National History, Art and Industry, Glasgow 1911. History and Historical Art and Exhibits Committee. A list of Office Bearers and Sub committee - Ethographical and Historical Exhibits. A report about objectives of the exhibition. from Charles E Whitelaw and James H Parker.
A printed page with Mrs Blair Stewart, Ryefield Place, Prestwick. typed in blue ink. Ethnographical and Historical Exhibits. Sub Committee. August 10 (c1910).
Series of letters from the Scottish Exhibition of National History, Art & Industry, Glasgow 1911 dated unknown, 4 and 8 April and 22 Nov, 1911 from George Eyre-Todd, Hon Secretary of History Committee to Dear Sir or Madam. These refer to loans of "articles noted on the enclosed list". The list is missing. The last letter talks about return of the exhibits. A document with same heading and with faux red seal to Mrs Stewart signed George Eyre Todd, Hon Sec in blue ink, thanking her for her "valuable assistance rendered towards the success of that enterprise , which, there is good reason to believe, has done a very real public service in stimulating interest in the history of Scotland".
On the same letter heading are letters: concerning Packing Agents authorised by History Committee; the packer's details; Precautions for Safety of Historical Exhibits (2 copies).
There are also four newspaper cuttings about the Kilmarnock family. One about his suppirt for the Jacobite cause, which led to his execution. (1945).
The Kilmarnock Standard. March 23, 1935 . Article about Kilmarnock House about to be demolished.
Another newspaper article about Lord Kilmarnock's execution!
Price: £1,400 | $1,850 | €1,570
Ref N°: 8410