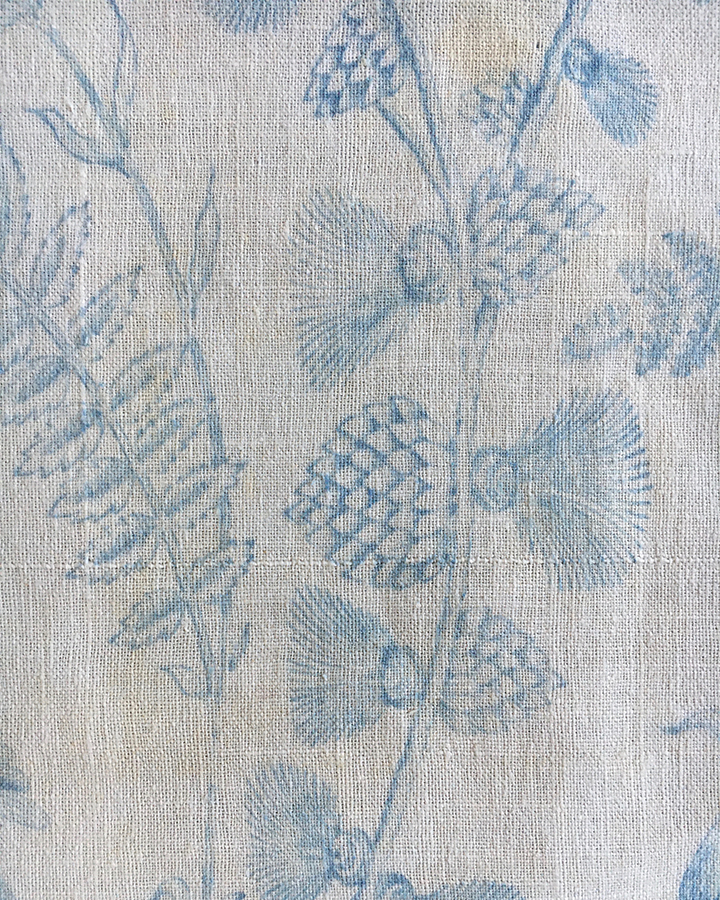 Bromley Hall ?
1800-1815
Probably Bromley Hall Printworks, by the River Lee , Middlesex, now an area of London, who were renowned for including British plants in their fabrics. For an enthusiast of early copper plate prints. Rare.
Cataloguing
A bird perched on a thistle with branches of small thistles, wheat, ferns and unbilicas, copper plate printed in pale blue on a off white plain weave cotton ground.
12 x 15 in; 30 x 38 cm
Condition
Well washed. One small light yellow stain to top right area between to branches. Two small holes, one above the bird's beak, the other to the left hand side.
Comments
Printed Textiles by Florence M Montgomery. 1970 ediiton. Page 250 figure 247 shows the Walnut Room, Winterthur Museum where the same fabric has been used for a window curatin and a slipcover. Fig 248.
Price: £250 | $340 | €290
Reduced to: £200 / $270
Ref N°: 1011