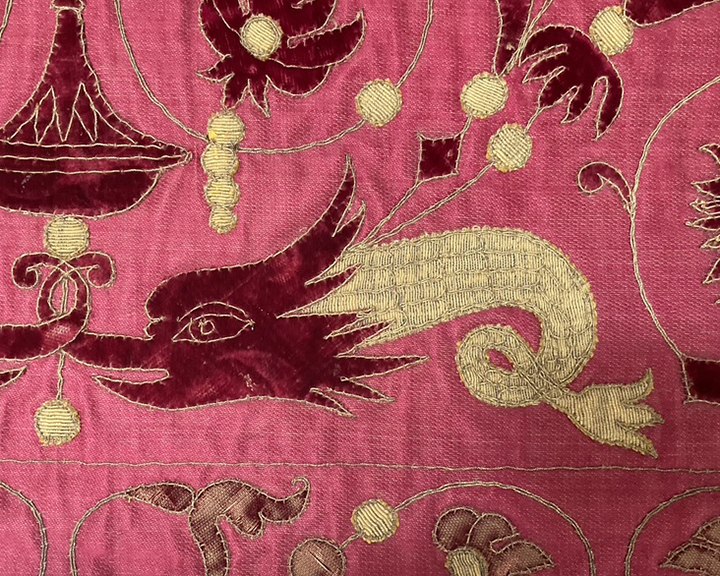 Rare Valance
Early 17th c
An exceptional and extremely attractive, very rare valance, almost certainly from the top of a half tester bed. I would say this was professional work. This could be mounted onto a stretcher for display. Worked in the reign of James I of England and VI of Scotland. Because there is some damage to one end and the top border, this could be cut and beautiful cushions made.
Cataloguing
Pairs of mythical grotesque type sea creatures, their heads of crimson appliqué velvet caught down with gold wraped silk couching, their elongated coiling noses entwined, with coiling tails of gold wrapped silk caught down on gold brocade woven with flat silver strips, leafy sprays emerging from their backs, the creatures flanking an elaborate fire filled vessel, alternating with pairs of birds dipping their beaks into a fountain, it's base supported by a pair of cornucopia, with coiling flowers, the top and bottom borders with S shaped flower tendrils, all on a pinky crimson satin ground, lined with natural coloured linen.
9ft x 11 in; 2.75 m x 28 cm
Condition
Basically very good. The top border has three areas 6 in; 15 cm long with darkening. I am not sure what this is from. The extreme right hand side also has similar marking 19 in; 48 cm along x 6 in; 15 cm deep. Some of the velvet appliqué is a a little worn, which one might expect with a piece of this age, mainly on the upper and lower borders. A few of the motifs have been restitched.
Comments
Embroidery in Britain from 1200-1750. The V & A Museum's Textile Collection. p 45 , no 23.

The Embroideries at Hardwick Hall by Santina M Levey
Price: on request