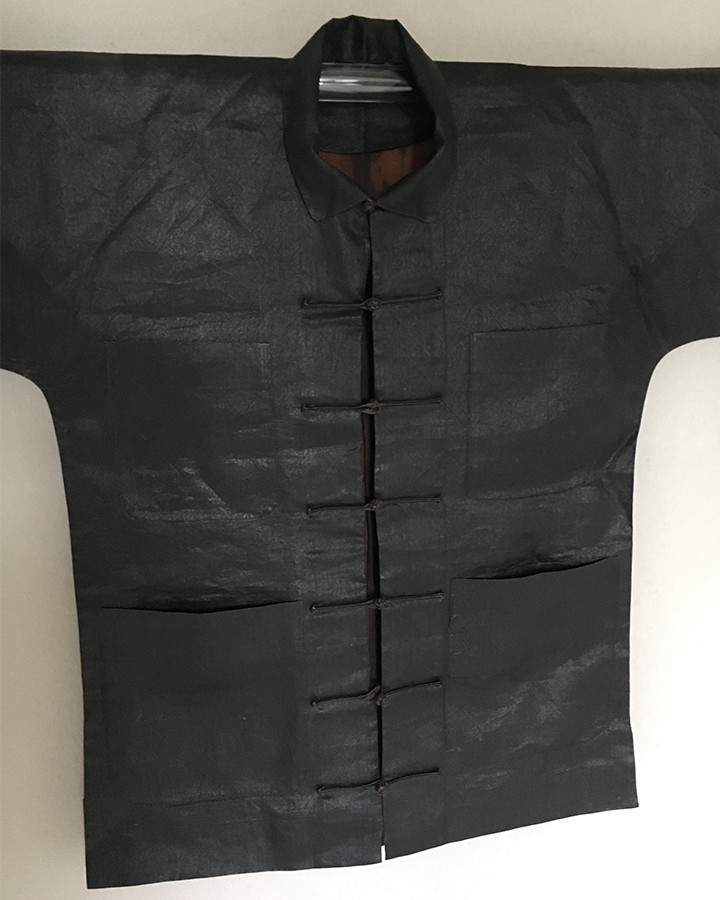 South Chinese Suit
1930s
The design is quite extraordinary and exceptional. A very fine quality man's suit.
The two-tone colour is in fact dyed with an indigenous yam from Guangdong province in Southern China. For the terracotta colour on the back of the fabric, a layer of iron rich river mud (which acts as a mordant and fixes the colour), sourced from the Pearl River Delta, was then applied on the front side of the fabric which turns black after oxidation. The fabric is then calendered by passing it under pressure between two rollers to achieve the glazed water resistant finish.
To see how dyers in Shun De work today there is a video
https://www.youtube.com/watch?v=nF74A2UCH5I
Xiangyunsha made of gauze weave silk are prized much higher than the other fabrics.
Cataloguing
The black jacket of highly glazed silk gauze with a pattern of diagonal rectangles, turned down collar, front opening with seven loop and toggle closures, two patch pockets to the upper body and two to the lower, the wide sleeves with a horizontal join, wrist length, all hand stitched.
38 in; 1 m under arm. 25 in 64 cm shoulder to hem
The black trousers of similar fabric with natural cotton top, gathered.
39 in; 1 m length 30in; 75 cm waist
Condition
Very very good condition. The jacket has a very small brown mark to the lower left hand patch pocket. The right hand pocket has a small slit 7 mm whose edges show the brown backing colour. The toggle buttons have slight wear. There is very slight wear to the underarms.
Comments
Mud Silk and the Chinese Laundress: From the South China Silk Industry to Mud Silk Suits in Maine by Jacqueline Field. Textile History, 45 (2), November 2014.
Price: £550 | $670 | €630
Ref N°: 8424a