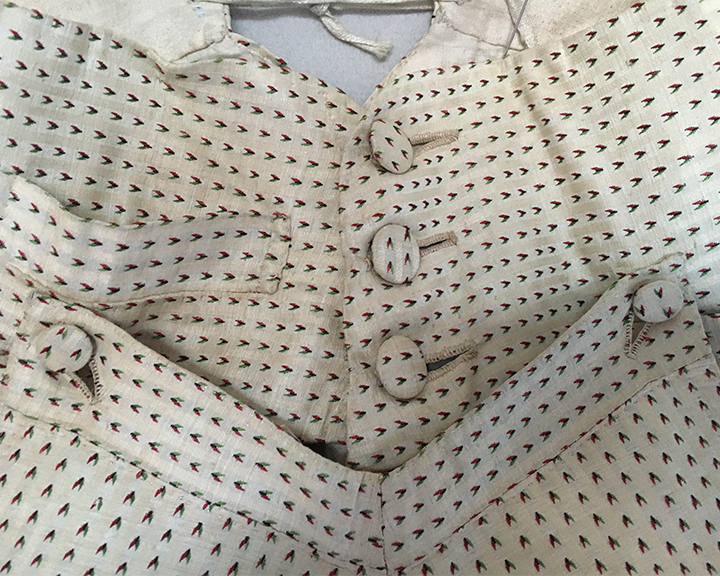 SOLD
Crewe Dod Breeches
Later 18th c
Provenance: From the Crewe Dod Family of Edge Hall, Malpas, Cheshire. These breeches were probably worn by Thomas Crewe Dod Esq (1754-1827). Thomas commenced his military career in the 16th (Queen's) Light Dragoons as Cornet in August 1775 when he was 21. He went to America with his regiment in August 1776, under Lieutenant George John Burgoyne. Promoted to Lieutenant in 21st regiment of (Light) Dragoons, he was gazetted captain into the 23rd regiment on 28 September 1781, the regiment returning to England in 1778 . He was gazetted captain in 23rd regiment of (Light) Dragoons in 1781. His regiment were the first to land in India in 1782 and on 27 July 1785 Dod was promoted to major. He eventually resigned from the Army to return to his Cheshire estates. He took part in the formation of the Cheshire Provincial Cavalry in 1798 and was commanding officer of the Western Cheshire Yeomanry raised in 1803. He married Anne, daughter of Ralf Sneyd of Keele, Staffs on 20 September 1786 when he was 32. They had six daughters and two sons. Thomas (1794 – 1810) who died unmarried age 16 and John Anthony (1798 -1821) who died in India aged 23. Some of the collection of menswear I purchased were worn by the son's but I think these breeches which date from the 1780s would have been worn by the slim father.
Cataloguing
Woven with diagonal narrow stripes, one plain with a minute repeating red, green and black fly or shuttlecock design, alternating with a diagonal weave stripe, fall front secured by two self covered buttons two slit side pockets, with buttons to the outer sides, above a three self covered button opening, the lower leg opening with four similar buttons, the band below caught by two decorative natural silk ribbons, the back deep waistband with four small holes thread with fine linen ties, roomy bottom area. fully lined with linen.
Front length 25 in; 64 cm
Waist 32 in; 80 cm
Condition
A little stain to the crutch area.