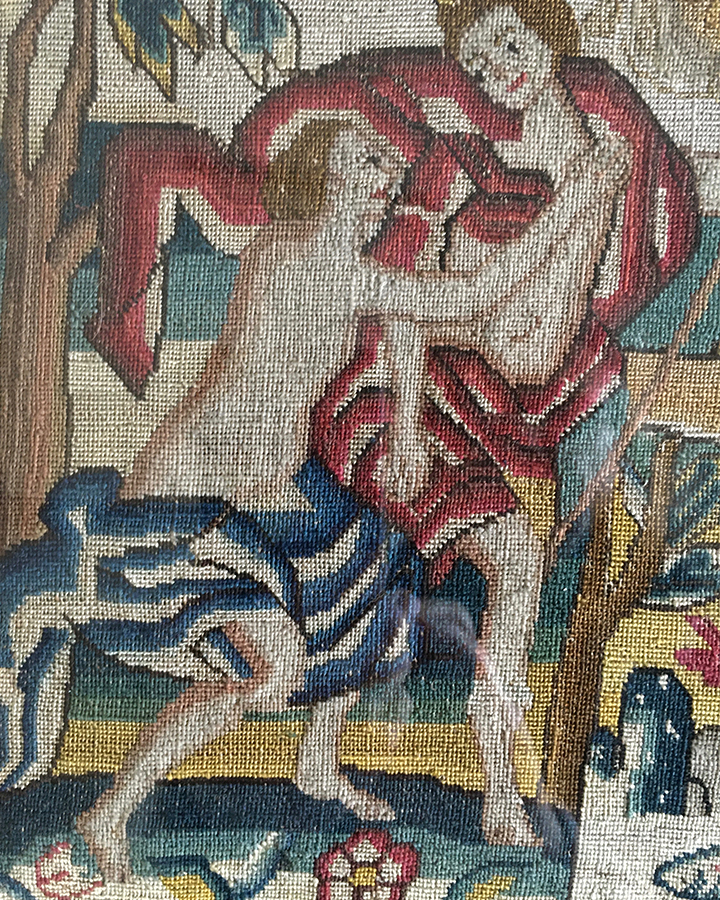 George I Embroidery
Early 18th century
Venus and Adonis. After a night of passion, Adonis sets out for a day's hunting. Venus knows he will be killed by a wild beast and tries unsuccessfully to restrain him. The scene is shown by Titian in a painting of 1554 in the National Gallery's current exhibition Titian - Love, Desire, Death.
There are 10 tiny stitches to 1 cm. The colours are unfaded, the design quirky, all making this a delightful hangable picture. Needlework during the Georgian period was the mainstay of a young woman's education, with emphasis on accomplishments rather than academic work. To produce a embroidery which could be hung must have been a young girl's aim.
Handwritten on a paper label on the reverse of the original wood backing it states: Property of Murray B Stewart, Oakley, Kirkcudbright (Scotland) - originally from Ross McAlpine *Loch Lomondside?) sold to Duke of Montrose in 18th c by owner's great great grandfather.
James Graham, 1st Duke and 4th Marquess of Montrose (April 1682 – 7 January 1742) was a Scottish aristocrat.


Cataloguing
Young lovers the woman with a blue wrap, the man with a red cloak holding a staff walking below a tree in the countryside, beside them a bird, lamb, a deer and long red beaked bird all in countryside, a fish in a pond to the foreground, all worked in minute tent stitch in shades of red, yellow, green, blue, beige, ivory and black silks
Embroidery 8 3/4 in; 22 cm drop x 8 1/2 in; 21 cm wide.
Embroidery and frame 13 1/2 x 12 3/4 in; 34 x 33 cm
Condition
Excellent. Now hand stitched to acid free calico, wrapped round a acid free board and framed in old frame and with old gold slip. The slip is a little chipped. The 19th century frame is perfect with the picture.
The original wood backing cannot be re used because of type of soft wood used. However, I still have it complete with the hand written paper label.
Comments
https://en.wikipedia.org/wiki/Venus_and_Adonis_(Titian)
Price: £1,200 | $1,690 | €1,390
Ref N°: 8383