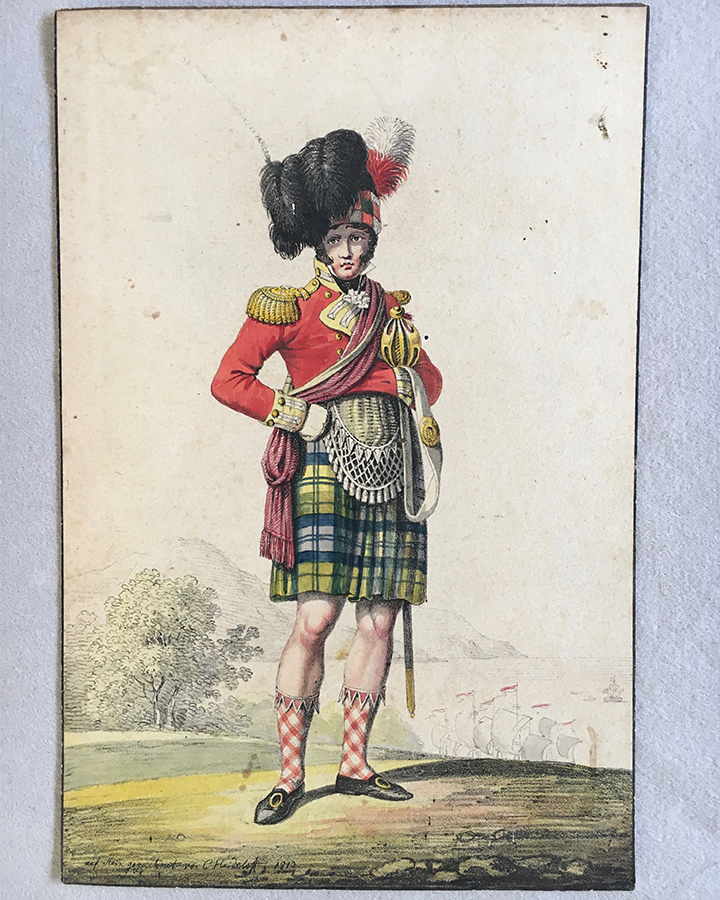 SOLD
Heidelhoff Lithograph
1810
Great pose and those socks! This would make a great present.
The inscription reads ''auf stein gezeichnel von C Heidelhoff '' translates as '' drawn on stone by C Heidelhoff '' Why one wonders was this written in German when Heideloff was living in England after the French Revolution. Any thoughts?
Nickolaus Innocent Wilhelm Clemens von Heidelhoff (1761 - 1837) brought up in Stuttgart, Germany and prolific producer of lithographs in particular fashion prints. The Gallery of Fashion are well known but this military print is rare. In the 1780s he migrated to Paris where he painted miniatures until the outbreak of the French Revolution dispersed his client base, when he moved to Britain.
Cataloguing
A Scottish soldier, complete with ostrich feathers to his hat, a silk diagonal sash over the red wool short jacket, tartan skirt, with muscular legs and red and white check socks with vandyked tops, black buckled pointed shoes, standing in a landscape, the background with ships flying flags, hand painted stone lithograph, the bottom written auf stein gezeichnel von C Heidelhoff (drawn on stone) by C Heidelhoff 1810.
10 x 7 in; 26 x 18 cm.
Condition
There are a few marks which you should be able to see in the photos.