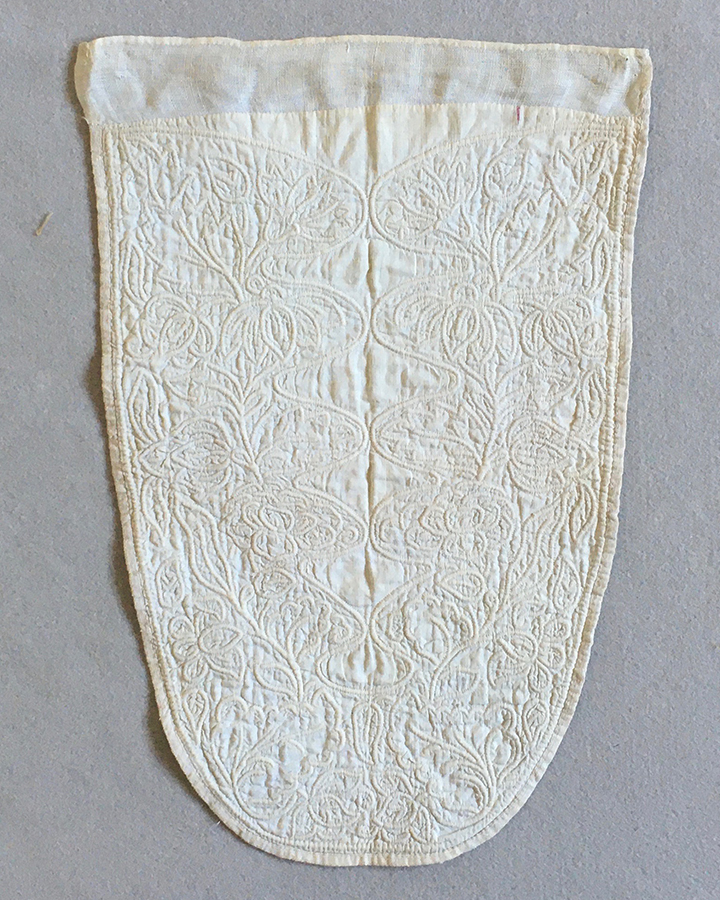 SOLD
Cord Quilted Stomacher
1725-35
Stomachers were worn with whalebone stays which would have kept the bust flat. This type of stomacher would have been pinned to the the underside of the bodice. I have not seen the plain top piece on a stomacher before. This would have been folded over the stays or corset and pinned in place with brass pins. Unusual and very pleasing design. when you look at the back you can see the ends of the linen thread in little bobbles which is rather nice.
Provenance: The late Margaret Watts
Margaret Watts and her husband George were great collectors and Sealed Knot members, with Margaret making the costumes.
George's collections ranged from cacti to 17th-century furniture, and Margaret acquired delicate needlework, and all its paraphernalia, as well as brooches. They both loved trawling through flea markets/auctions and finding things in 'miscellaneous' boxes pushed under tables. These interests led to the whole family joining the Sealed Knot. It was here that George made muskets and gun carriages, as part of the Trayne of Artillery, and Margaret made costumes.
Cataloguing
Of a gentle U shape with a symetrical design of flower filled deep vertical undulating borders, with tulips pinks, and other flowers, all worked in cord quilting or Italian quilting, in backstitch with linen thread on a linen ground, the back with coarser linen, which then emerges at the very top of the stomacher, the back with tufts of linen ends, 12 1/2 x 8 1/2 in; 32 x 22 cm
Condition
Very good condition. No marks. The small red mark to the top right is in the weave of the linen.
Comments
For similar shape see Fashion in Focus 1600-2009 by Grace Evans, p 42
http://www.larsdatter.com/18c/stomachers
Historical Fashion in Detail. The 17th and 18th Centuries. Avril Hart & Susan North p 200/1