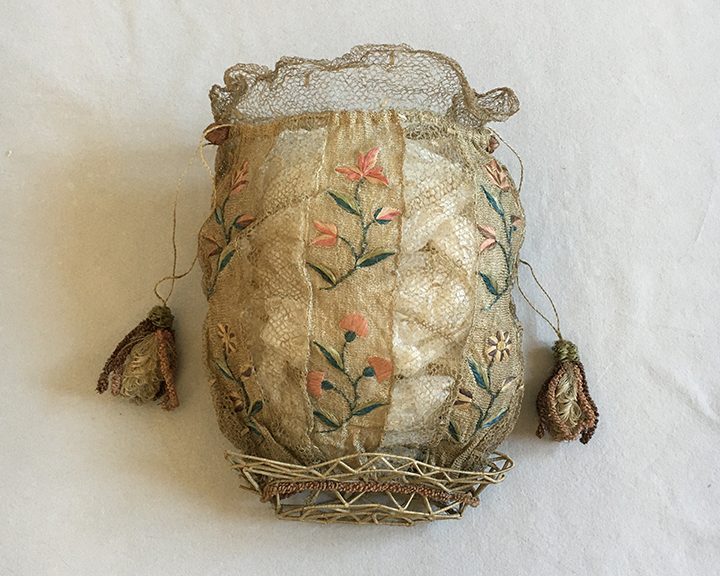 Pineapple in a Basket Bag
c 1800
This very large workbag, resembling a pineapple in a basket, is the largest I have ever seen, knitted in pineapple fibre for the export market. Made in the Philippines and exported through the port of Manilla to Europe and America. The flowers were embroidered over what looks like a cotton layer. I think the overall colour of the bag would have looked gold by candlelight. Perhaps this large bag was used for storing parfilage - the art of unravelling silver and gold lace from out of date dresses and furnishings. Carried out by upper class ladies in France, it became a craze, and soon spread to England where it was known as 'Drizzling'.
This was difficult to photograph. I have stuffed it with tissue to give it a shape.
From the collection of George and Margaret Watts. George's collections ranged from cacti to 17th-century furniture, and Margaret acquired delicate needlework, and all its paraphernalia, as well as brooches. They both loved trawling through flea markets/auctions and finding things in 'miscellaneous' boxes pushed under tables. These interests led to the whole family joining the Sealed Knot. It was here that George made muskets and gun carriages, as part of the Trayne of Artillery, and Margaret made costumes.
Cataloguing
Knitted pineapple fibre in gold/blonde shade wih six vertical panels of shaded coral or mauve and beige stylised flowers and green leaves on a tightly knitted ground, alternating with six openwork knitted panels, the top with similar openwork and drawstrings, each with a huge pineapple shape end with brown loops, the base in the shape of an oval basket with fibre covered wire.
Actual bag length without the gathered frill 12 in; 31 cm. With the frill 14 1/2in; 37 cm.
Condition
Very good. A couple of the bound structural pieces on the boat shaped section at the bottom are broken. Also the top frill has a very little damage, a slightly larger hole than the rest. Ask for photos.
Comments
An identical work bag is illustrated in A Passion for Purses by Paula Higgins & Lori Blaser
p 253 and p 13. It was brought to America by the American ship Eliza in 1811.
Fashioned from Nature by Edwina Ehrman p 71-3
Bags by Claire Wilcox p 40
Price: on request
Ref N°: 8424