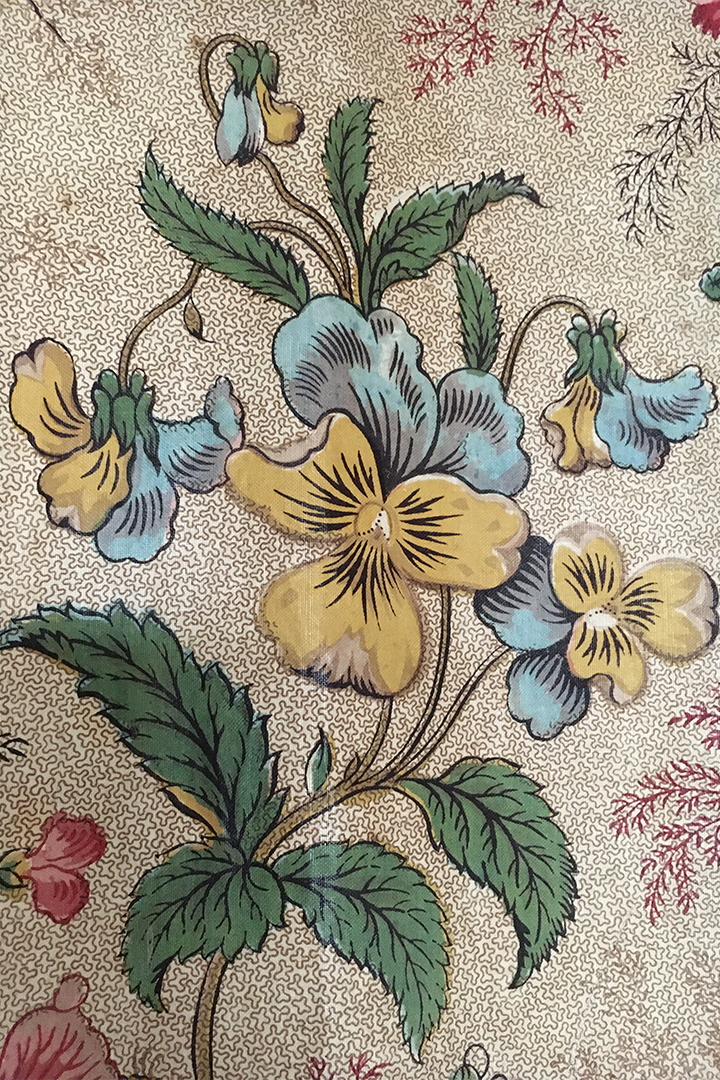 SOLD
Furnishing Chintz
1780s
These lengths are very much a 1780s arborescent design influenced by Indian painted Palampores with a Tree of Life design. The minute vermicular (worm) background design is applied with a copper or roller printed cylinder. This ground treatment often occurs as background on Palampores. The lining to these curtains is printed with the same vermiculate design. The flowers and details are hand block printed with blue pencilled by brush over yellow to create green. The design extends just once across the width of the fabic. For a lover of beautiful but not perfect antique fabric. The lengths are particularly long.
Cataloguing
Each hand blocked cotton panel with a central sinuous branch with knarled trunk, from which poppies, nasturtiums and sweet peas grow, with further sprays of flowers, in coral, soft orange, pale blue, green and lemon, the roller or copper plate printed background with minute soft brown vermiculate design, glazed. The lining fabric with the same but smaller vermiculate ground.
1. 7ft 6 in x 7ft ; 2.28 x 2.13 m (3 full widths + 6 in; 15 cm)
2.. 10ft 4 in x 26 in; 3.15 m x 66cm selvedge to selvedge.
3.. A narrow length 10 ft 4 in x 13 in; 3.15 m x 33 cm
4. panel 9ft 10 in x 26 in; 3m x 66 cm selvedge to selvedge
Height repeat 33 in; 84 cm
Condition
1. The curtain has a bad tear 20 in; 50 cm from the bottom on the right hand side (6 x 3 in; 15 x 8 cm) and a little damge to the edge. It could be conserved because the pieces of fabric are there. There is a tear to the top left hand side (2 x 2 in; 5 x 5 cm). A small tear to the lower left hand panel, easily repaired and on the same left hand panel another area of tear 2 x 1 1/2 in; 5 x 4 cm). The left hand side has slight fading and there is slight browning of the fabric (fading). It might be worth removing that very narrow right hand panel for repairs. Ask for photos. The vermiculate ground backing is quite stained and with some tears.
2. Good condition. Some slight brown markings (fading)
3. Few holes near the top and some water marks.
4. The top 2 1/2 in; 6 cm has some bad tears. A 6 x 6 in; 15 x 15 cm brown stain with a tear can be seen 2 ft 8 in; 80 cm on the right hand side. A 3 in; 8 cm split to the left hand side. Some light water marks her and there.
The backing vermiculate ground is quite stained and with some tears.
Comments
Printed Textiles by Linda Eaton. Chaper on Floral and Copperplate Designs.