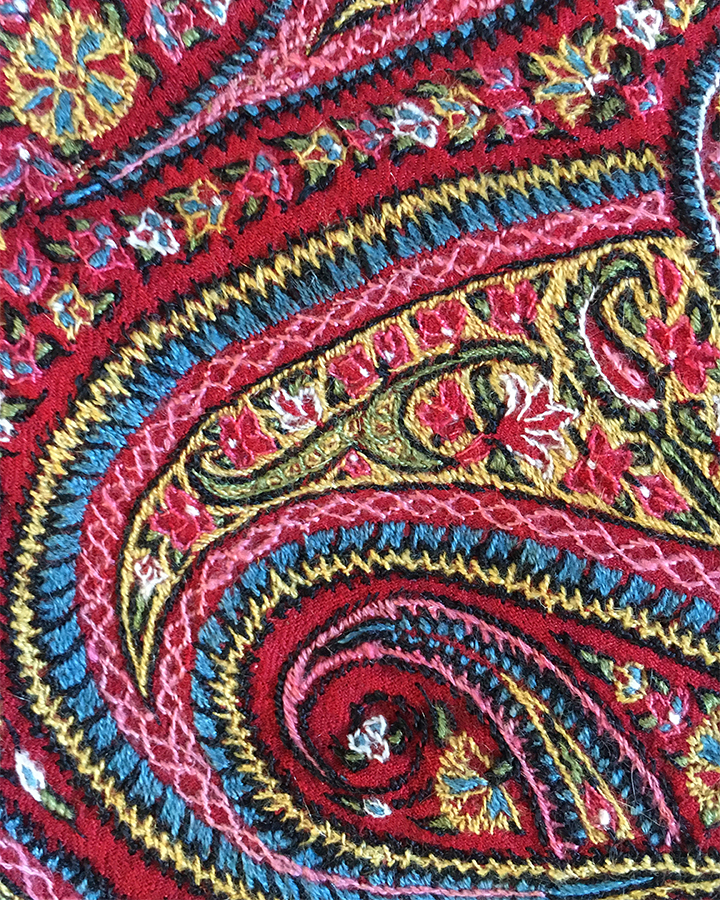 Kashmir Shawl
1850s
A stunning design with exceptional amli embroidery and colours. This type of embroidery was the specialitiy of shawls worked in Kashmir and Jammu.
Cataloguing
The scarlet pashmina centre finely embroidered with a star centre and eight elongated pines, each with curling leaves, the wide border with slanting flower filled pines surrounded by foliage, the outer woven border with a meandering stylised flower repeat, all in polychrome palette including blues, red, yellow, green
5ft 6 in x 5ft 5 in; 1.65 x 1.64 m
Condition
Excellent. The outer woven border has a hand sewn organdie type backing strip, for strengthening. One side of the border has a hole 1 x 1/4 in; 3 x .5cm and a repair 2 1/2 in; 6 cm. Another border has a weak area 2 1/2 x 1/2 in; 6.5 x 4 cm. Also two lines of repair to same border. The third border has one small hole. All of these are only noticeable when you really scruitinise the border.
This would look good backed and mounted (no frame).
Price: £500 | $660 | €560
Ref N°: 8436