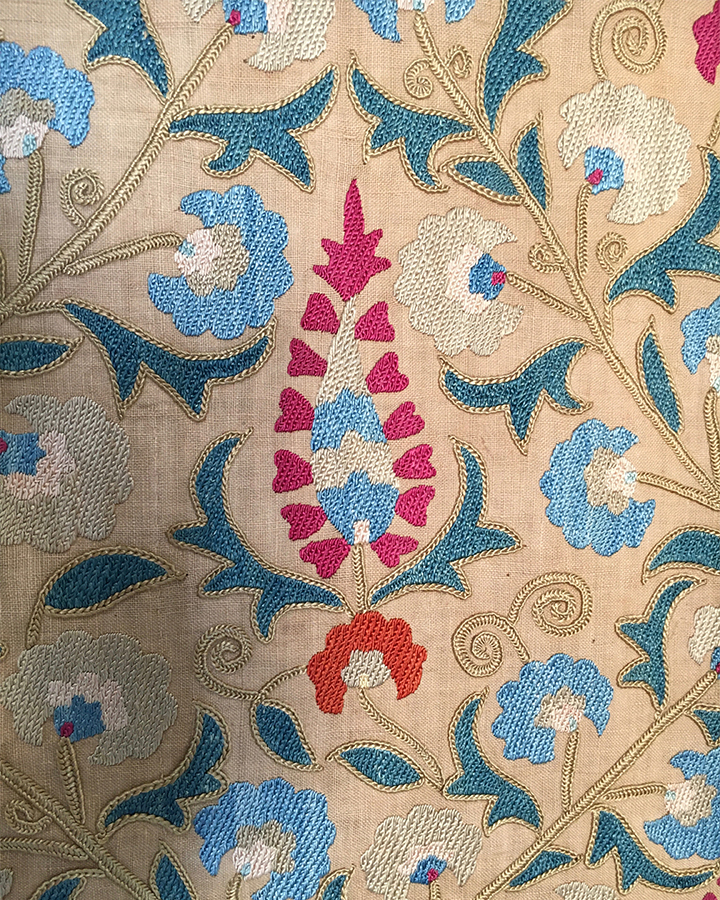 SOLD
Susani from Bokhara
Third quarter 19th century
The small bird is a charming thought. Lovely colours, bright but not too bright. This would look most attractive and is a good size as a wallhanging or on a sofa or bed. The susani has been reduced from a larger size. No doubt the original was damaged. See Condition report below.
Cataloguing
The central rectangle filled with a lattice of flower sprays mainly carnations but with exotic pointed flowers, the deep borders similar, a small bird to the left hand side, all in deep pink, terracotta, sky blue, beige, ivory, sea green and sage green silks on a very biscuit shade, cotton ground, backed with a Russian printed cotton with a linear design and edged with Central Asian ikat silk in deep pink and blue.
6ft 1 ix 4ft 2 in; 1.85 x 1.3 m
Condition
Very very good. No stains or marks. As mentioned this susani was once larger, and has been reduced in size. The top band has two small panels of the same fabric inserted. On one panel the fabric has been turned 180 degrees so the ivory silk flowers look paler. Ask for photos. Also the central seam has a orange embroidered line which disappears further up. The backing fabric is original. I would suggest that the alterations happened quite a long time ago.