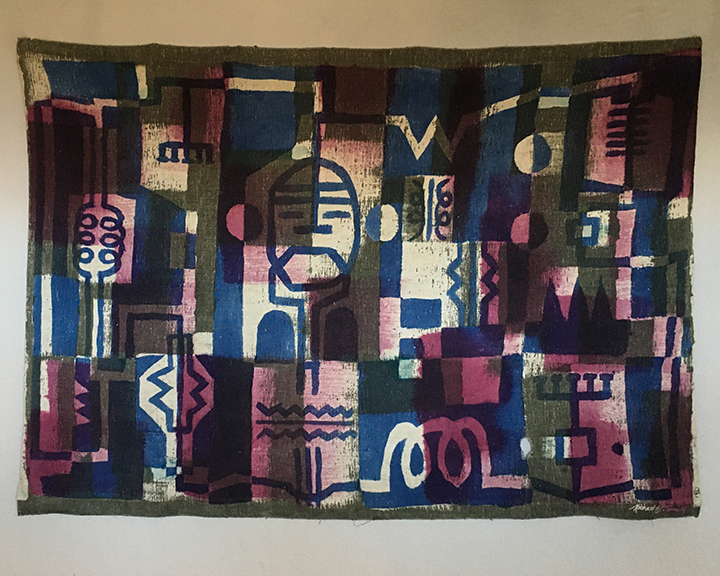 Michael O'Connell
Late 1950s
A stunning and highly decorative hanging by the little know Michael O'Connell. Unusual subject matter and colouring.
Electronics inspired by electrical engineering with circuits, brackets, Epsilons and Vees. O'Connell wrote: electronic symbols are more or less a foreign language to me and I believe it is for that very reason I take to them...it makes for greater associations of sentiment and romance which is an advantage.....the world today is full of graphical symbols. Traffic signs and advertisements surround us on all sides, but whatever the beginner in dyes decides to grip on to as his raw material, I would say conventionalise all shapes fully: avoid anything approaching realism.
This design was commissioned by architect Eugene Kent for the reception areas of Sufflex Ltd, Bilton House, Ealing, London. The colouring is the same as ours but a slightly different version. O'Connell had worked with Kent on the Moss Brothers store refurbishment in Chester.
Several variations of Electronics were produced, with one being displayed at the Ideal Home Exhibiiton at Olympia in the 1950s. It was also shown in 1961 at his solo exhibition at the Midland Group, a Nottingham and East Midlands group of artists who presented new art from 1943-1987.
O'Connell used specially formulated resists and dyes which were free hand painted and piped onto the mordanted fabric, then the whole work, once dry was dyed. After the Second World War, such newly developed techniques were used by O'Connell to create the Festival of Britain wall hangings. This hanging comes directly from O'Connell's family.
Electronics inspired O'Connell in 1961 to produce the publication Script-Design, on the theory of design on the medium of resist printing. It showed the development of the designs for Electronics.*
Cataloguing
Signed Michael O'Connell, in the bottom right corner, with his intwined monogram MOC the circuit diagram in two dimensional motifs of blocks of colour paste resist painted in rich shades of deep pink, purple mid and dark blue, on sage,the fabric a heavy coarse textured linen.
7ft 6 in x 4ft 2 in; 2.28 x 1.27 m
Condition
Excellent apart from where there was a hole 5 x 3 cm. 44 cm from the lower outer edge and 15 cm from bottom of the hanging. My brillant conservator has now conserved the hole which is impossible to see.
Comments
See: ARTICLES for piece on Michael O'Connell.
*Michael O'Connell. The Lost Modernist by Harriet Edquist p 136/7. This design is illustrated.
Artists' Textiles in Britain 1945-1970. p 45, 60. Geoffrey Raybner, Richard Chamberlain & Annamarie Stapleton, p 45 & 60.
20th Century Pattern Design by Lesley Jackson p 74, 82,8398,99
www.artrepublic.com/articles/456-lino-cutting-and-the-grosvenor-school-of-modern-art
Price: on request
Ref N°: 8442