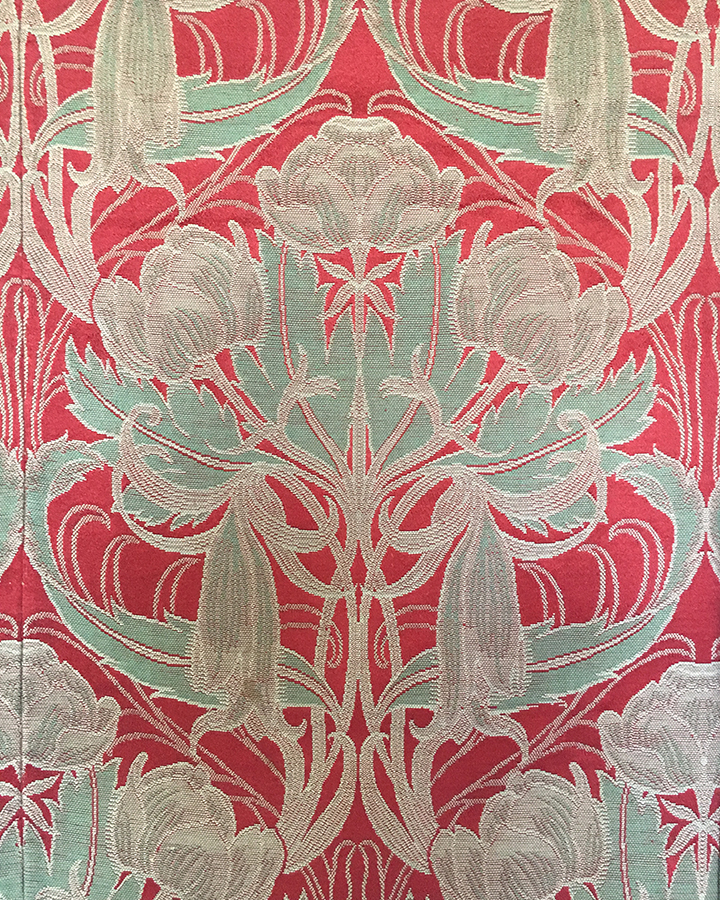 Lindsay Butterfield?
c 1900
My feeling is that this was woven by Alexander Morton & Co. We know that Butterfield produced many designs for the company, covering a wide range of its products, and eventually, in 1902, he entered into an exclusive agreeement with them for designing for tapestries, with a certain minimum stipulated quantity of designs per annum.* I believe this type of fabric would have been called a tapestry by Mortons. The quality is of a high standard.
Lindsey Butterfield (1869-1948) was one of the most successful freelance designers of patterns who worked in the Arts and Crafts style. He trained at the National Art Training School at South Kensington from 1889 to 1891 where he studied the underlying geometry of plants. He was also a keen gardener. Butterfield's early designs were based on plant forms that were recognisable but subtly stylised, deriving their influence ultimately from designers William Morris (1834-1896) and C.F.A. Voysey (1857-1941). Butterfleld became a freelance designer of wallpapers and textlles and sold designs to Alexander Morton, G P & J Baker, Warner & Sons, Thomas Wardle, Turnbull & Stockdale, Newman, Smith & Newman Ltd and David Barbour, Glasgow & The Silver Studio. He taught at a number of art schools and was a founder member of the Society of Designers.
Cataloguing
A large repeating motif of three peonies in an upright spray with two long pods of lilly flowers, all in red and pale green on a crimson satin ground, woven in a silk and wool double cloth.
39 x 30 in wide; 1 m x 77 cm wide.
Almost two repeats. Each spray 20 in; 50 cm drop.
Condition
This panel is made up of five pieces. See photo of the reverse.
Comments
* Three Generations in a Family Textile Firm by Jocelyn Morton p 113.
Price: £400 | $560 | €460
Reduced to: £300 / $420