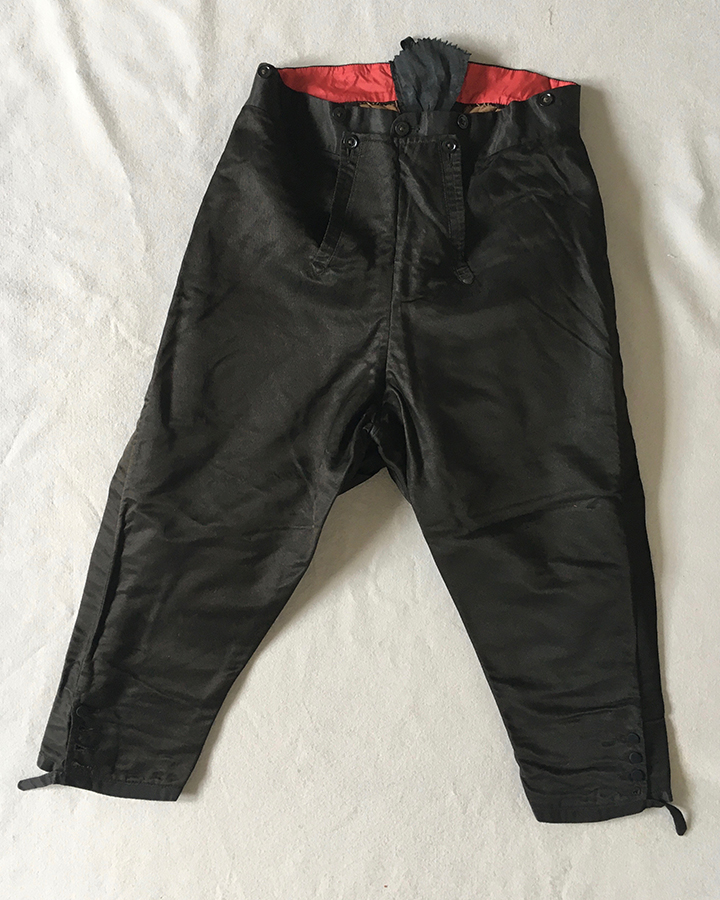 SOLD
Black Breeches
1820-30s
I love the scarlet silk lining to the waistband on this beautifully made pair of breeches which were probably worn by a skinny young man.
The straps are positioned below the eyelet and loop adjustment at the center back waistband as a later addition. In that position, they would be clinching in the natural waist, helping to keep the crotch fitting high and tight. The japanned buckle looks as if it has been repurposed from a man's stock.*
Cataloguing
Written in ink to the lining ***** Russell, the black silk twill breeches with a narrow fall front revealing two black metal buttons below a further two on the waistband securing the front, a further two buttons either side on the waistband for braces, and then another each side, the back with two, either side of two hand embroidered eyelet holes and ribbon, a black ribbed silk fan shaped insert at centre back with zig zag edging, a black japanned metal buckle securing two tabs, the cuffs with four silk covered buttons and a tab and eyelet hole for a buckle, a roomy bottom area! The waistband lining with a scarlet silk taffeta, the rest a coffee coloured twill weave cotton.
Waist 30 in; 76 cm
Front to hem 31 in; 79 cm
Condition
Excellent. There is an ink blot under the H. One button is missing from the four at the lower leg. Easy enough to transfer a button from under the flap, as they are all the same size. The lining is a little discoloured. The silk of the straps at the back of breeches is a slightly different twill weave than the breeches. You have to look really hard to tell.
Comments
* My thanks to Henry Cooke of Historical Costume Services in Randolph, Mass. for his insights.