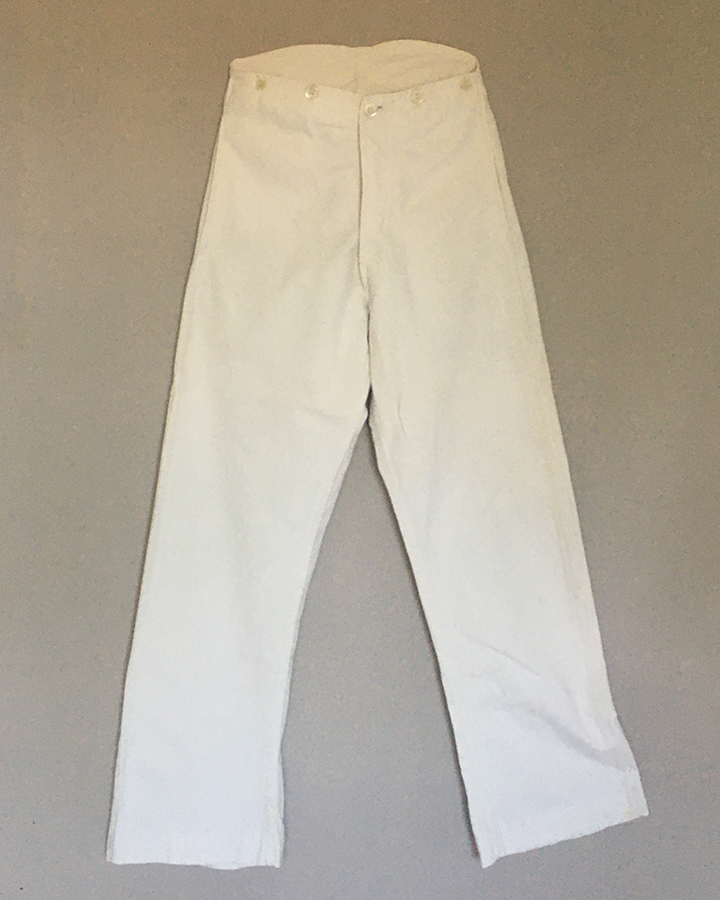 Gentleman's Trousers
1860s
From the Baines family of Bell Hall, Naburn,Yorkshire. Worn by a tall young man.
Cataloguing
Of thick white twill weave cotton, fly front with five mother of pearl buttons, the waist with two buttons either side of the buttoned flies, pockets to the sides, the back rising up and slightly shaped, two buttons centre and back, two adjusting tabs, one with a button. wide legs.
Waist 28 in; 70 cm
Front waist to hem 40 in; 1 m
Legs at hem 10 in; 25 cm
Condition
The legs have clearly been narrowed at some time, but now let out. The lower left hand leg at the inner side, has a some ochre markings and to the back of that leg there are some more. A few slight markings elsewhere, but not many. The mother of pearl buttons have been added. Ask for photos.
Comments
https://archiveshub.jisc.ac.uk/search/archives/3b55d483-f652-33bf-8009-f8a18a88e866
http://catalogue.hullhistorycentre.org.uk/files/u-ddbh.pdf
Price: on request