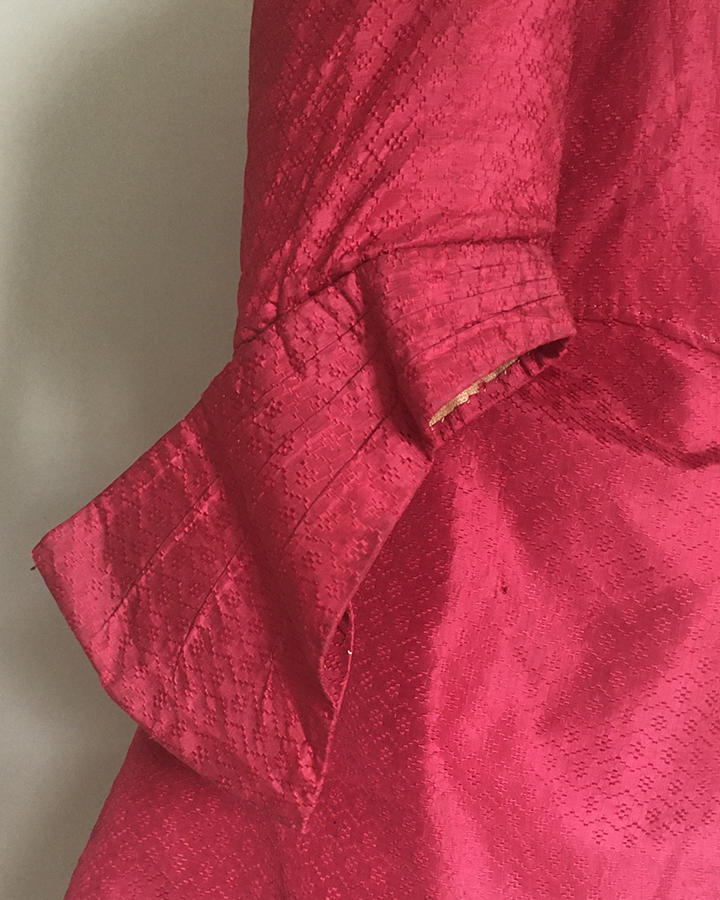 SOLD
Caracao
1740-50
Wonderful cuffs and the back shaping is really lovely. Not in the best condition but would be greater for someone interesting in recreating it or for a museum handling collection.
Cataloguing
The crimson silk damask woven with horizontal rows of zig zags interspersed with 'flowers', the scooped rounded neck with laced front opening, with double set of hiden eyelet holes, the front panels cut in one piece, underarm side seam, the back with square neck, horizontal shoulder seams, centre back boning down to the tailbone, further two bones to each side, including the curved back shoulder seam, the skirts with five pelats either side of the centre, the hem dipping, the elbow length sleeves with deep shaped cuffs with four pleats, stiffened, the lining in light and pinky brown linen, the sleeves in a knapped cotton?
Condition
There is underarm markings and the left side, as you look at it, has a few splits. One a mannequin the sleeves can be positioned so these do not show. The lower right hand side has some little slits and a big mark 3 1/2 x 1 1/2 in at top petering down to a point. From the back, the left shoulder has a small patch 1 x 1/2 in; 2 x 1.5 cm and four pinhead holes. The right shoulder has a darkish mark. The left back sleeve has a darkened mark 1/2 x 3 in; 1 x 8 cm; There is a pinhead hole to the back.Three small pinhead holes to the skirts.
Comments
Patterns of Fashion c 1660-1860 by Janet Arnold p 26.