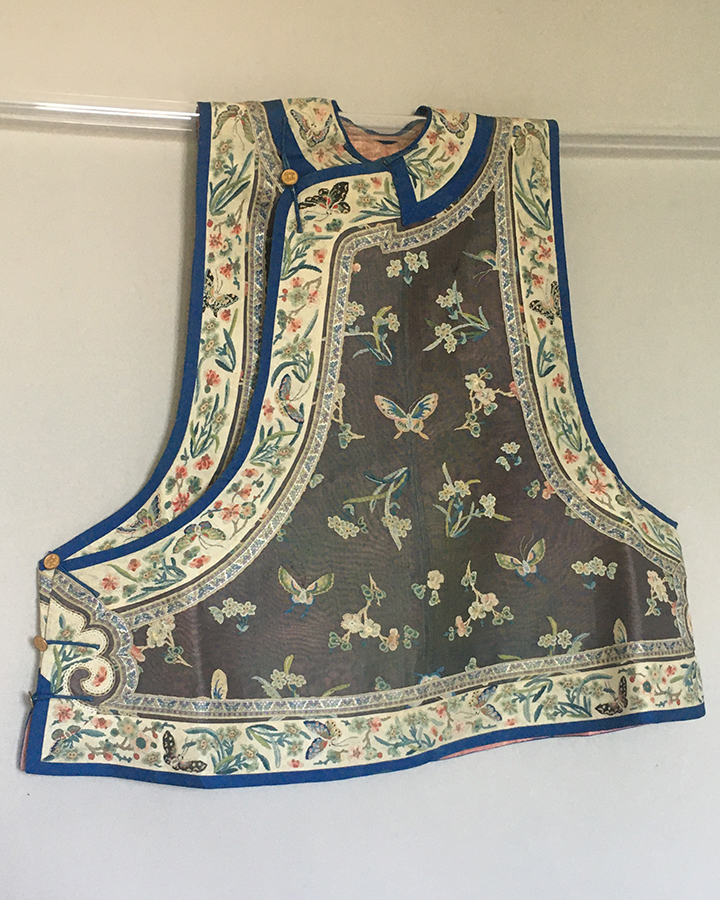 Chinese Waistcoat - Majia
Second half 19th c
The way the soft coral lining is viewed through the grey ground, to give a two colour effect is very attractive. Beautiful colours and very fine embroidery.
This style of short waistcoat majia or kanjian was worn by Manchu woman, the ruling class, for informal wear. It would have been worn over a full length robe, probably plain silk gauze or silk damask.
Cataloguing
The main body of the waistcoat finely embroidered with butterflies flitting amongst prunus and narsissi, in shades of mid and light blue, lime and mid green, apricot, cream, all in counted stitch, with additional Peking knots and satin stich on the prunus flowers, on a mid grey silk gauze ground, all edged with hand woven narrow butterfly brocade. an outer border of butterflies and flowers on a ivory silk gauze ground, edged with mid blue silk satin binding, the neck closures with blue toggles and loops, bras style flat buttons engraved with good luck symbols, to the side closures, the lower sides with ruyi shaping, lined with coral silk gauze woven with large double dragon roundels.
Condition
There is a small mark to the front top right hand on the grey silk. Otherwise fine. The coral silk gauze has some slight discolouration and a few marks. Ask for photos.
Comments
Ruling from the Dragon Throne by John E Vollmer p 52
Price: on request
Ref N°: 1094