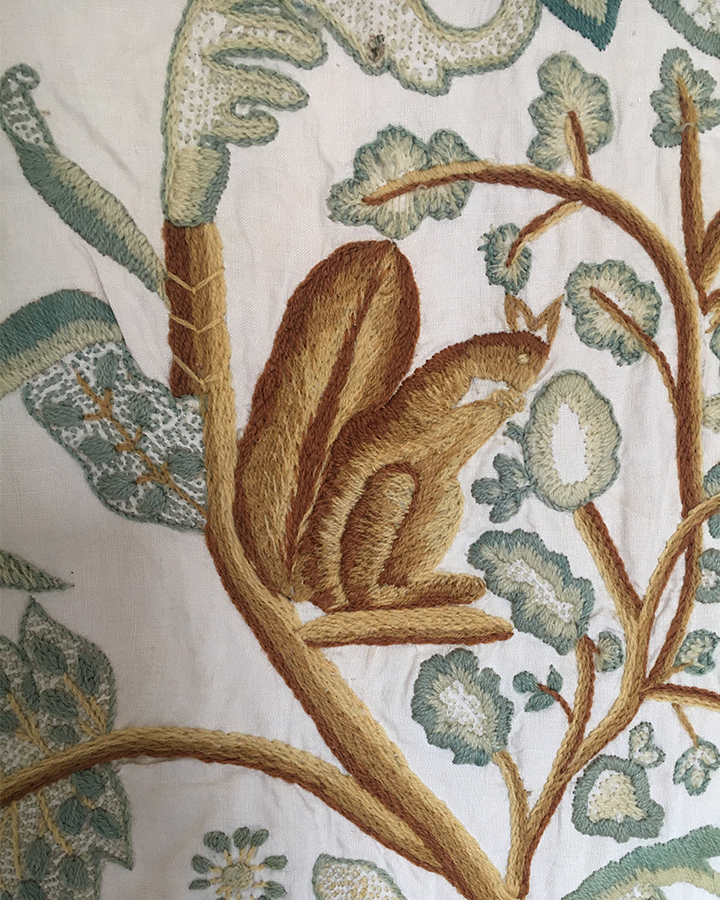 Crewel Woolwork
1888
So nice to have a dated embroidery by R! Lovely colours and attractive design. It is rather refreshing to have a slightly different Tree of Life design. This would have been embroidered by an amateur lady and has a delightful naive quality.
Cataloguing
A Tree of Life, the base with a prancing deer and a large leaf with the date 1888 and R, with a central trunk emerging from the bottom of the hanging, dividing a third of the way up, with a branch veering off to the left, the central trunk continuing to the top, a squirel perched on a branch beside a huge acorn and oak leaves, other branches appear from the sides of the hanging similarly filled with a variety of exotic and native leaves, many speckled filled with a variety of stitches, all in shades of sea green, pale green, putty, pale yellow and mid brown and beige on a natural linen ground.
7 ft x 4ft wide; 1.24 drop x 2 m wide.
Condition
The lower left hand corner has some very light staining over a 15 x 18 in; 38 x 47 cm area. It is not a solid stain but four areas. Almost certainly a water mark. The colours of the wool would need to be tested but possibly the stain could be removed or reduced by a conservator. This does not detract from the hanging. Lots more photos available.
The hanging has been backed, interlined and machine stitched edged with a highly suitable blue linen. However, the bottom is puckered, needs to be undone and re sewn. It would look better taken apart, and stitched to a backing cloth, stretched over a stretcher and hung. Or it could be a curtain. We can do the work for you.
Price: on request
Ref N°: JM