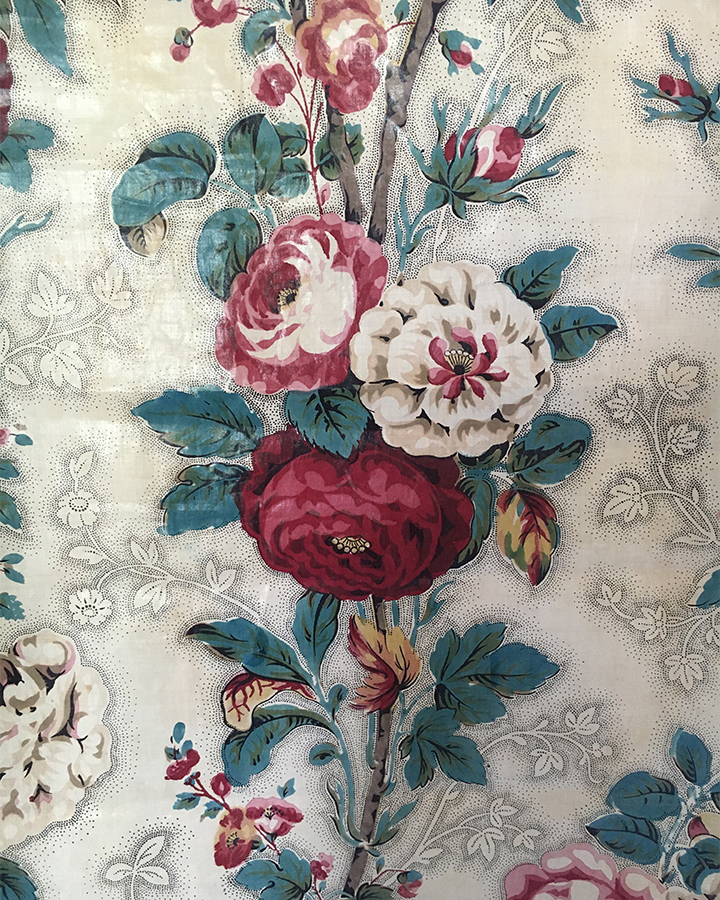 Chintz
1845
More wonderful lengths of glazed cotton. There are two longer lengths and two shorter. Lovely rich colours.This length is glazed indicating it has never been cleaned or washed, although it has been used because there are minute holes from stitching to the selvedges. Cotton was glazed for furnishing textiles, mainly blinds and curtains. The fabric is passed between calender rollers at high temperatures and pressures to create the glaze, which repels dust. I owuld like to sell these together, such a rare opportunity to buy so much.
Cataloguing
Each panel with a meandering tree filled with full blown roses, shaded in crimson and off white and cream with blue green leaves, touches of pink, brown, black and ochre, the design outlined with a picotage or pinning with leafy sprays, all on pale creamy ground, glazed.
3ft 7 in x 25 in ; 1.10m x 64 cm selvedge to selvedge - 2 lengths
9ft 3 in x 25 in; 2.8 m x 64 cm selvedge to selvedge - 2 lengths
Pattern repeat 35 in; 90 cm
Condition
One of the shorter lengths has a 5 1/2 in; 14 cm slit. This is 2 inches or 5 cm in from the middle of the left hand side.
The longer lengths. One length has a pin head hole near the top. There are a few minor minor light brown spots.
The background colour of all the outer edges of all four lengths have approx 6 in; 15 cm wide area of very very slightly darker shade. The inner edges have in past been sewn together by hand, so there are pin pricks.
Comments
Textile Printing by Joyce Storey
Price: on request