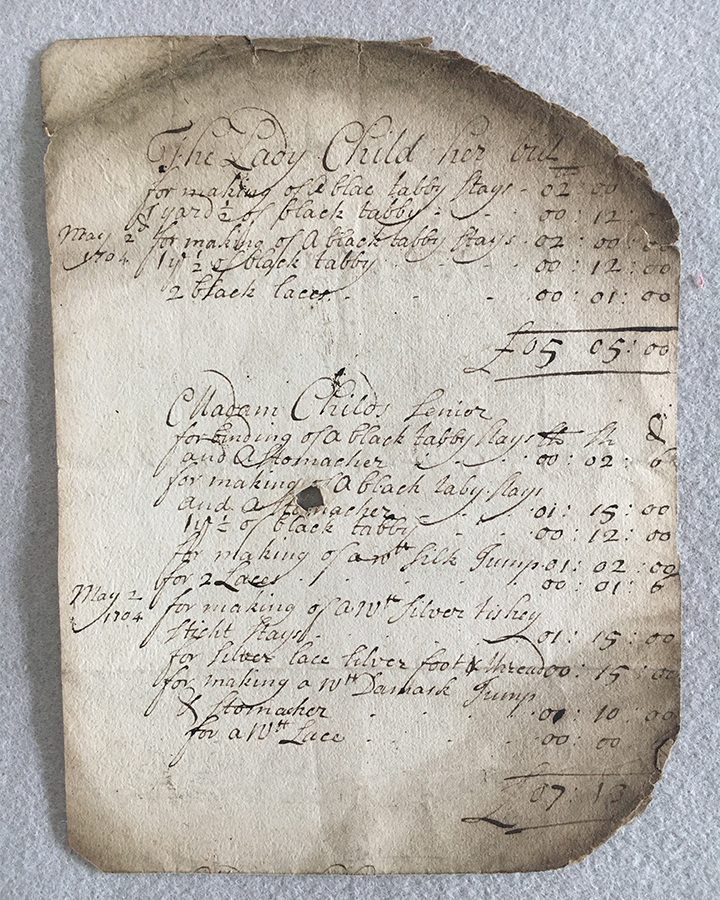 Staymaker's Bill
May 1704.
A fascinating insight into the purchase of clothing (stays and stomachers)** for Lady Child of Wanstead Hall and her relatives. A Manuscript Bill detailing the items made with their cost. 4 May 1704.
The Child family resided at Wanstead Hall, the medieval manor house in the Manor of Wanstead, in Wanstead Park, Essex. The Lady Child, mentioned in the bill would have been Lady Emma Child (nee Willughby) the wife of Sir Josiah Child,1st Baronet (1630-99). A merchant, politician, MP and governor of the East India Company, who in 1667 leased Wansted Manor. On his death the estate passed to Sir Richard Child (1679-1750), 3rd Baronet, second surviving son of Sir Josiah and his second wife Mrs Mary Stone, instead of Josiah Child, 2nd Baronet (1668-20 Jan 1704), the son of Sir Josiah and his third wife Emma Willughby. Josiah was out of favour with their father at the time of his death and receives nothing beyond what had been settled upon him at the time of his marriage. Richard is now immensely wealthy and demolishes the Medieval Hall and builds Wanstead House. The huge Palladian house was designed by Colen Campbell, the interior by William Kent.*
Josiah Child, 2nd Baronet died in January 1704 (1668-1704), so one might assume the bill were mourning clothes for his wife and family, as most of the clothes mentioned are black. The black tabby used, was a simple plain weave and would have been a most appropriate fabric for mourning. The bill is not dated until May, but probably the milliner, out of respect, waited a reasonable time before presenting it. The stays and stomachers mentioned in the bill are for:
The Lady Child - Elizabeth Cooke, Sir Josiah's, 2nd baronet's wife.
Madam Child Senior - Sir Josiah's mother, Mary and second wife of his father.
Madam Child Junior - Dorothy Glynn, Sir Richard Child's wife.
Things to explain in the bill. Most of the items are black and I thought for mourning**, but then there are silver and gold laces, tabby plain weave silk taffeta and taby are mentioned. I think the word tishey means tissue. IVth I would think refers to the width of lace and woven tape**. Not sure what the word a black breed means unless it is braid. Who was Sir Francis Child? Clearly a close relative who was handling bills at this period.
Stays are corsets, which at this period would have been heavily boned with baleen whale bones. made in two parts with lacing at the back, and usually without shoulder straps. Staymakers at this period were men, their strength required to stitch through layers of cloth and to push the baleen bones through the stitched channels. Stays promoted an errect posture by holding the shoulders back and the bust out.
At this period Open Robes or dresses were worn. The bodice was not closed but exposed leaving a gap from the bust to the waist. The edges of of the dress had flat sewn down revers or robings which eneded at the waist. The exposed space was filled either by decorative stays or a stomacher. The stomacher was a decorative removable V shaped elongated triangle which covered the breasts down to the waist. Often elaborately embroidered and with silver or gold work, but for mourning would be less elaborate and presumably with only black trimmings. The black laces ordered might have been used for lacing across the stomacher, to give a little decoration. The stomacher had small tabs on the side, for pinning to the sides of the dress. See photo.
Jumps were quilted women's sleeveless waistcoat worn with a skirt for informal wear. Unstuctured and worn instead of boned stays. Usually worn as informal wear indoors with a petticoat, and would have been warm and practical. The word derives from the French jupe, a short jacket. An aristocratic woman would have worn them around the house, whislt a working women would have worn them for ease of movement and warmth.They laced up the front but still provided support for the bust making them far easier for a woman to put on herself without assistance. There is an example on my website: meg-andrews.com/item-details/Silk-Quilted-Jumps/9032.
Cataloguing
Written in beautiful script in black ink on hand made paper.
7 1/2 x 5 1/2 in; 19 x 14 cm
May 2nd 1704
The Lady Child her bill (Lady Elizabeth Cooke, wife of Sir Josiah's 2nd)
For making of a blac (sic) tabby stays 02.00.00
1 yard ½ of a black tabby " 00.12.00
For making of a black tabby stays 02.00.00
1 yd ½ of black tabby 00.12.00
2 black laces 00.01.00
£ 00.05.00
Madam Child's Senior ( Sir Josiah's widowed mother Mary, and second wife of his father)
For binding of a black tabby stays and a stomacher 00.02.00
For making a black taby stays & a stomacher 00.15.00
1 ½ yd of black tabby 00.15.00
for making of a IVth silk jumps 01.02.00
for 2 laces 00.01.00
for making a IVth silver tishey (tissue) stays 00.15.00
for silver lace silver foot & thread 00.19.00
for making a IVth damask jump & stomacher 01.10.00
for IVth lace 00.00.06
£ 07.13.00
Side two
Madam Child Junior (Dorothy Gynn. Wife of Sir Richard Child)
for …….. a black breed on a black tabby stays 00.02.00
for making a black taby stomacher 00.03.00
½ yd of black taby 00.04.00
A black taby stays altered 00.02.06
for making a IVth taby jumps 01.02.00
for ½ yd of … taby 00.04.00
2 laces 00.01.06
for making a black tabby stays & a stomacher 01.15.00
1 yd ½ black tabby 00.12.00
for making a IVth silver tishey (tissue) stitch sta 01.15.00
¾ of IVth ......... tabby. 00. 06.00 f
for gold lace gold thread & gold foot 00.19.00
07.02.6
£ 20.01.0
May 19, 1704
Recd of Sir Frances Child . Nineteen pounds in full of all account.
signed........................Warren
Condition
Some browning and damage, which should be clearly seen from photographs. A small hole to both sides indicating it was put on a bill hook.
Comments
* www.wansteadpark.org.uk. Do read the fascinating history of the house and it's inhabitants.
The Angel and the Cad by Geraldine Roberts. 2015. A truly shocking true story of how the richest woman in England, who inherited Wanstead Park, married a cad who cheated her out of all her inheritance, to the extend that the house was destroyed, to pay his bills!
Seventeenth-century Costume by Rebecca Quinton p 133
Corsets & Crinolines by Norah Waugh chapeter 11.
Handbook of English 18th c Costume by C Willett Cunnington and Phillis Cunnington p 108.
What Clothes Reveal by Linda Baumgarten p 10.
** Ian Chipperfield of The Staymakers has kindly suggested that the IVth is an abbreviation for white, the colour of the stays or jumps rather than the measurement. Ian has also suggested that the black items are not for mourning, but for general wear, in the same way that the Victorians wore black or white corsets. www.the staymaker.co.uk
Price: on request
Ref N°: 1098