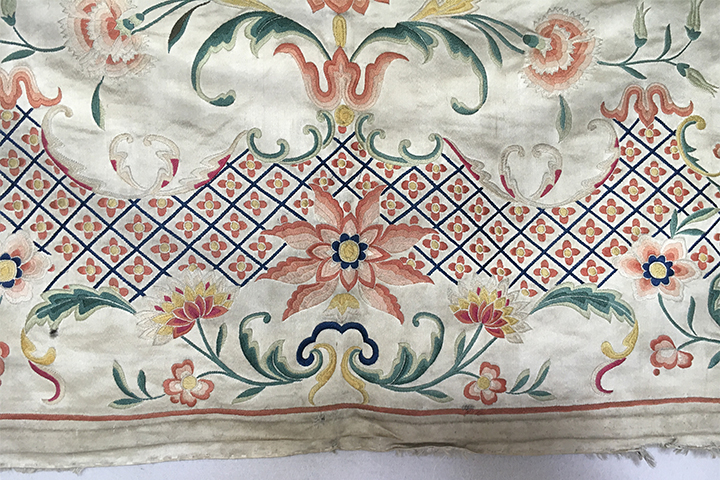 SOLD
Rare Macao Export Skirt
third quarter 18th c
A most unusual and beautiful skirt, made in the Portuguese enclave of Macau in China where it was embroidered for the Western market. A near neighbour of Hong Kong, Macau occupies a small peninsula and two islands off China's southern coast. Until the mid-seventeenth century Portugal was China's main trading partner, through the port of Macau.
Some of the flowers such as the peonies are Chinese in style and the embroidery done by a Chinese hand. The ivory silk is Chinese. Great design, Rococo influenced, using ten bright clear coloured silks. It is rare to find secular garments worked in Macao. Sometimes I see bedcovers which were clearly very popular in the 18th century. More often one sees ecclesiastical garments such as chausables. This skirt has small tack marks along the length, which you can probably see. It was almost certainly given to the church, who used it as an altar cloth. If it had been made as an altar cloth there would be ecclesiastical symbols as it is the motifs are purely secular.
In the middle of the waistband is the remains of an original dark green silk ribbon. I feel this was formerly a ribbon threaded through the waistband and secured for closure. The skirt would have been worn with a caraco or jacket.
Cataloguing
The centre with a vertical stylised flower bursting from a vase shape, its stems radiating with small flowers, a peony and outstretched pinks below, either side more exotic vertical flower stems with fruits, flanked bu two smaller centre sprays, each end with half a spray, so a total of six, all above a flower filled trellis in Rococo style with C scrolls, the lwoer border with flower and leaf sprays, all in coral, peach, crimson, yellow, banana, ivory, eau de nil, mid green, pale and mid blue twisted silks on an ivory satin ground.
7ft x 3ft; 2.12 x 92 cm. Top turned slightly under.
29 in; 74 cm each width of fabric x 3 with coral selvedges.
Condition
As you will probably see from the photos, and if you can't, ask for more. The lower left hand corner is missing. Generally the top part of the skirt is grubby. I expect a conservator could improve this. The top of the skirt is folded over 11/4 in; 3 cm, then there are two horizontal fold lines 5in; 13 cm and 6 in; 15 cm. The lower line has holes. Clearly this has been folded and tacked, heaven forbid, to an altar table. These lines are quite dirty. Ask for photos.
Comments
Interwoven Globe. The Worldwide Tetile Trade, 1500-1800. Maria Joao Pacheco Ferreira
p 46-55.