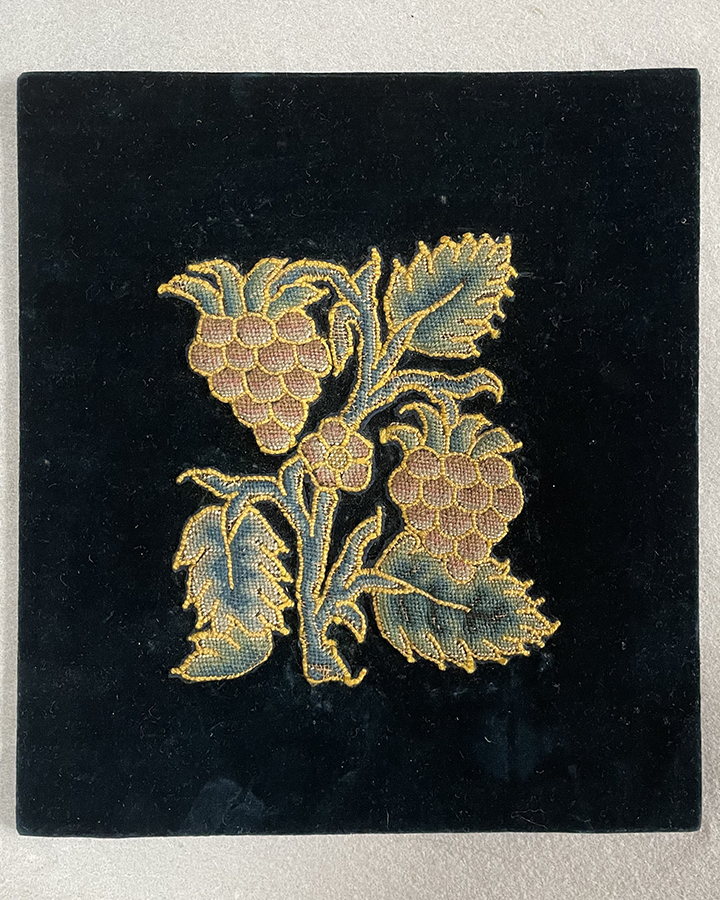 Grapes
c 1600 Stuart Period
A slip is an embroidered motif, often a plant or flower with foliage. They acquired their name from gardeners' slips or cuttings. To propagate a plant the gardener takes a stem cutting the base with a diagonal heel, then potting up the cutting to form a new plant. These embroidered motifs were popular on bedhangings from the mid sixteenth to the mid seventeenth centuries. smaller motifs were used on boxes and mirror frames.
These look good hand sewn to a linen or wool ground which is stretched over acid free board. They are then ready to frame. If you can sew this is quite easy to do and we can advise or we can do this for you. This would make a wonderful present for a textile, embroidery or garden enthusiast.
Cataloguing
Two bunches of grapes heavy on the vine, a small five leaf flower to the centre of the stem, the heel cut on the slant, worked in cross stitch in pink, palest mauve, two shades of green and blue wools, yellow wool outlining, all on black wool, black wool backing.
5 x 4 1/4 in; 13 x 12 cm
Condition
The grapes have slightly faded and now softer colours. The green and blue seem fine.
This is laying against a piece of velvet. It could be stitched to a linen or velvet ground of your choice.
Comments
See my ARTICLE on Slips.
The Victoria & Albert Museums's Textile Collection. Embroidery in Britain 1200-1750 p 54 & 55 for similar slips.
Price: £495 | $670 | €580
Ref N°: 8496