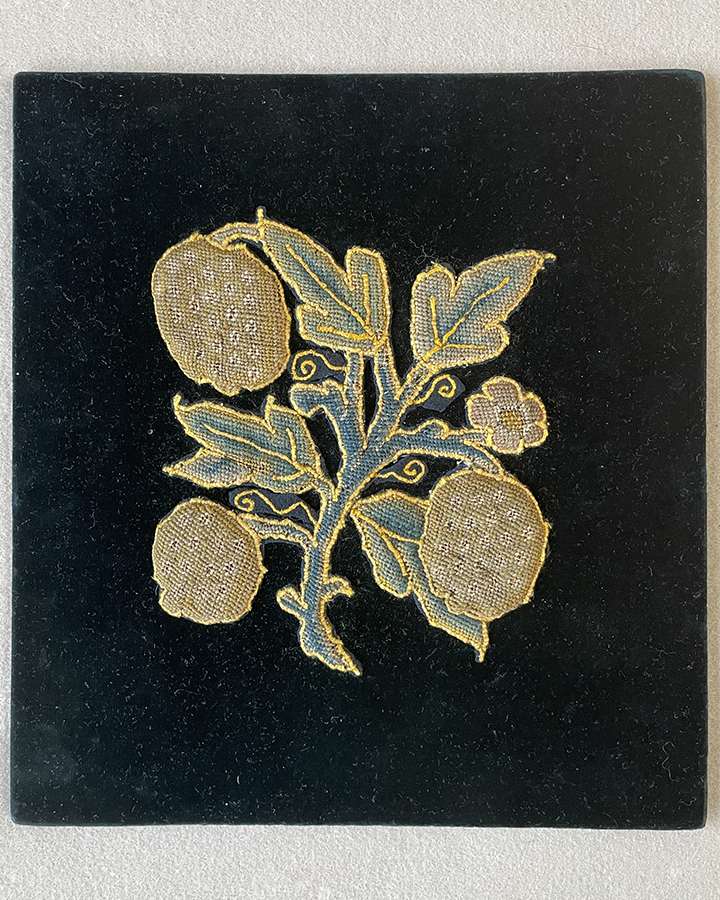 SOLD
Medlar Slip
c 1600
Not sure whether this is a medlar, it's not really quite the right shape, although full of seeds. Any thoughts? Lovely shape.
The accurate colour of this piece is the more yellowy shades as in the photo of the whole motif, not the close ups.
A slip is an embroidered motif, often a plant or flower with foliage. They acquired their name from gardeners' slips or cuttings. To propagate a plant the gardener takes a stem cutting the base with a diagonal heel, then potting up the cutting to form a new plant. These embroidered motifs were popular on bedhangings from the mid sixteenth to the mid seventeenth centuries. smaller motifs were used on boxes and mirror frames.
Cataloguing
The three large fruits embroidered in pale brown and beige tent stitch, with ivory silk pips, the leaves in shades of green & blue, tendrils and slantng cut base, outlined yellow couched wool, black wool backing.
5 1/2 x 4 1/2 in; 14 x 12 cm
Condition
Slightly faded particularly the fruits, but still delightful. This has been stitched to a piece of old very very dark green velvet.
Comments
Read my ARTICLE on Slips.
The Victoria & Albert Museums's Textile Collection. Embroidery in Britain 1200-1750 p 54 & 55 for similar slips.