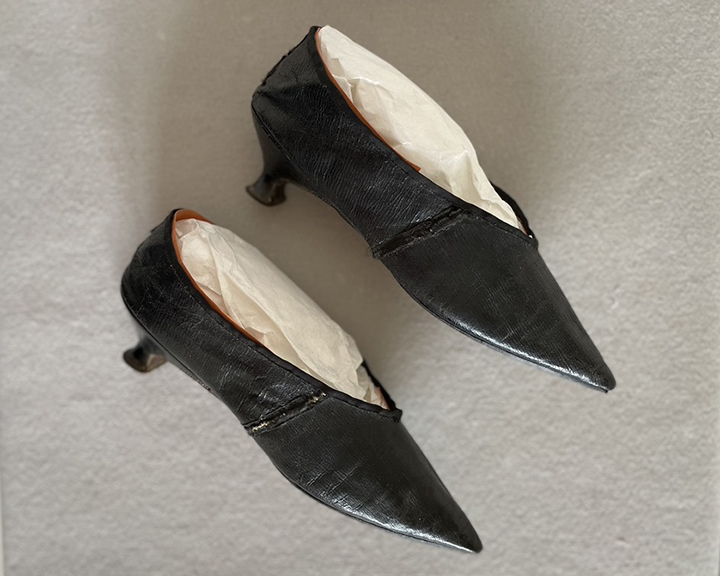 English Leather Shoes
1790s
A more practical everydy walking shoe! A beautiful elegant shape. The long pointed toe made the foot look longer and narrower. Why does'nt a shoe designer reproduce these. I would love to wear them. I have jsut had these conserved. Photos will be going onto the site very soon.
Cataloguing
Pointed black kid leather toes with rounded small heels, slanting side seams and back seam, lined with natural cotton, leather soles.
8 1/2 in; 22 cm heel to toe
2 in; 5 cm heels
Condition
Amazingly the pointed toes are in very good shape, just a slight scuff at the very end. Very slight crazing to the kid. One small hole to top of one heel. The narrow black silk ribbon edging to the sides and round the circumference of the shoe was missing, revealing stitching and the fine gathering cord which would have given the very top shape which is still there on both shoes. I have had these conserved with a fine fine grosgrain black silk ribbon, very similar to the original. The side and back seams could do to be covered with same silk ribbon. I can supply this.
Comments
*The Seductive Shoe Jonathan Walford p 48
An Agreeable Tyrant. Fashion after the Revolution by Alden O'Brien. p 160
Footwear Alan and Vanessa Hopkins p 30
Price: £1,500 | $2,120 | €1,740
Ref N°: 1100