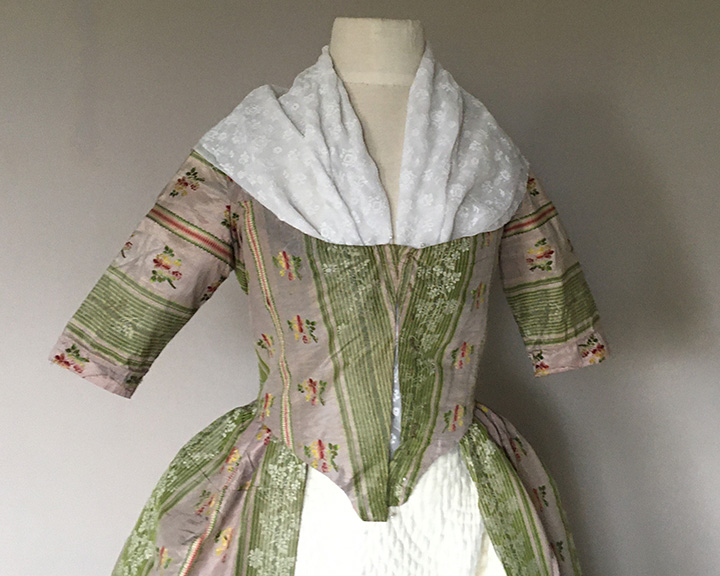 English Polonnaise Gown
1770s
The silk is woven in lovely fresh colours. By candlelight the ivory silk on the green stripes would have glistened. Unfortunately there is no provenance. I have lots more photos.
Cataloguing
The silk woven with two wide stripes of palest mauve brocaded with flower sprigs in red, yellow and green, between a narrow ribbon, alternating with a wider stripe of narrow acid green stripes woven with an ivory flower meander.
The gown with a scoop neck and drawstring, and with lower flattened points, the shoulders with an additiional strip from front below collarbone to back armhole seam, the centre back with two central bones, short sleeves set into the back of the gown, left hand pocket slit, lined with linen tape, full skirt, the bodice is lined with natural cotton.
The bodice is lined with a natural cotton. The skirt has three of the original linen loops and the two ties to pull the skirt into a polonnaise.
Front shoulder to skirt hem
The skirt hem 9ft 2 in; 2.8 cm curved at the back by a seamed section.
The silk 25 1/2 in; 65 cm selvedge to selvedge.
Condition
The cuffs have been shortened. Originally they would have come over the elbows. A lace ruffle would disguise this. The simple frill to the neck, which can be seen on some of the photos, is not original and I have removed it. The right hand pocket slit is sewn up, lined with same tape as the open slit and all looks original ie it has not been sewn up at a later date. To make the curve at the back of the skirt a piece of same brocade has been sewn on but is original. The lower inside hem silk lining is missing. The skirt where it attaches to the bodice at the sides has some later sewing, which could be improved.
Comments
Similar: Costume in Detail by Nancy Bradfield p 61 and 65. Gowns from the Snowshill Collection.
Price: on request
Ref N°: 8476