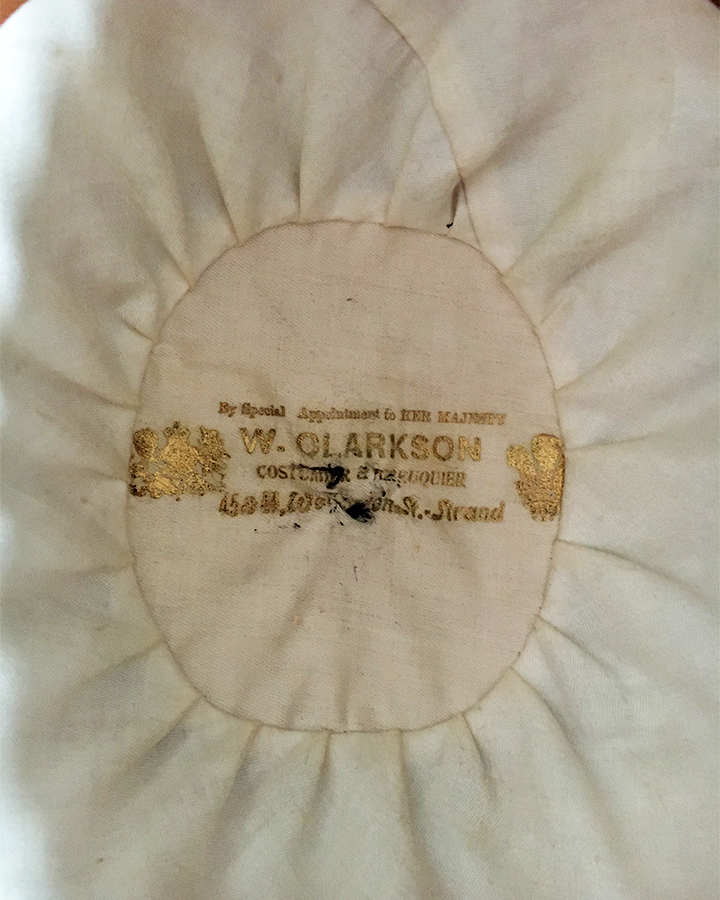 Willy Clarkson Wigmaker's Hat
Last quarter 19th century
Willy Clarkson (1861-1934) was a theatrical Wigmaker & Perruquier. The business of Clarkson's Wigs began at 44 & 45 Wellington Street, off the Strand, London WC2 in 1833. Willy Clarkson, whose full name was William Berry Clarkson, took over the business from his father after he died in 1878. He was also a Theatrical Costumier and Property Maker. He was known as the Wigmaker of Wellington Street. It was known that he was involved in crime, arson, blackmail and perhaps murder. I have just watched a fascinating You Tube video, suggesting with rather good evidence, that he was Jack the Ripper responsible for the Whitchapel murders of young women. Perhaps this hat was made for the Gilbert and Sullivan comic operas the Mikado which opened at the Savoy Theatre in 1888.
Cataloguing
The deep crown covered in black satinised cotton in six segments, with yellow silk tassels from a silk covered button, the deep brim covered in black velvet, the inner rim of leather hand stitched to the hat, the upper inner crown of ivory cotton wtih By Special Appointment to Her Majesty. W Clarkson, Costumier, 45 & 44 Wellington Street, Strand. flanked by Royal Warrants.
Inside head measurement 22 1/4 in;57 cm
Condition
Very good. There are a few slight light brown markings to the front of the deep brim and the very top of the brim. Clean inside. Ask for more photos if you wish. The photo of the slight wear to the brim makes it appear more prominent than it actually is.
Comments
http://www.arthurlloyd.co.uk/Backstage/ClarksonWigs.htm
https://www.youtube.com/watch?v=4_2mEYyFGZ0&lc=UgxLFL7KI9rBg4-4EeF4AaABAg
Price: £250 | $310 | €290
Ref N°: 6312