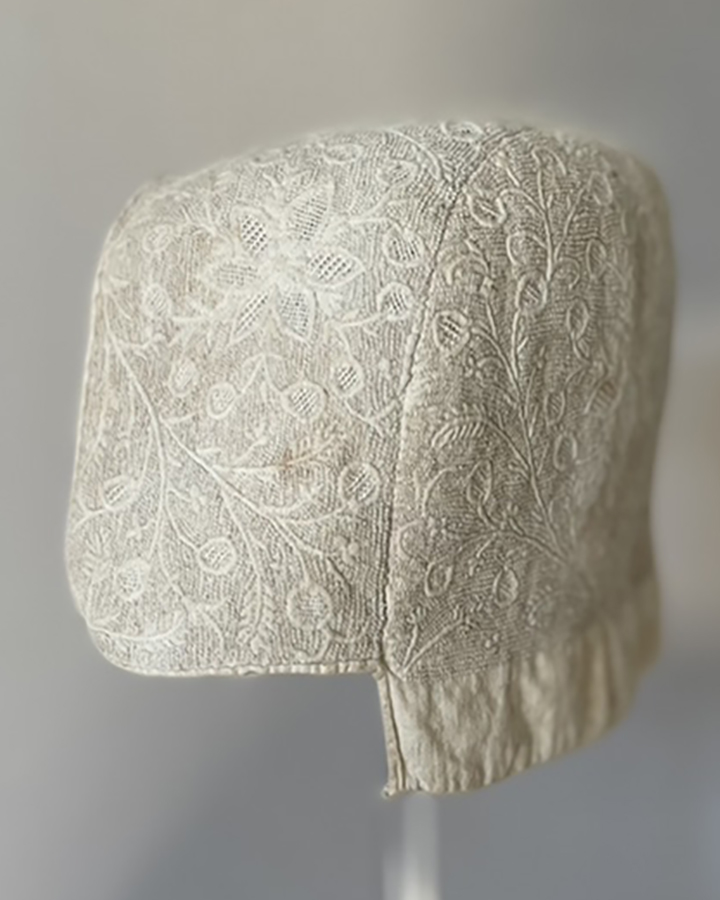 Broderie de Marseille Baby Cap
1740-60
Fantastic quality French 18th Century corded & quilted baby's cap with pulled work and French knots, worked in three panels. Purpose made possibly in a Marseille atelier.
Cataloguing
The back section with a central pointed flower, the petals filled with two designs of drawn threadwork, a plain linen flap to the back neck area, enclosed by fruiting branches, all cord quilted, infilled with minute French knots, the two front panels with a central join similarly worked, all in creamy linen.
Condition
There are some light brown markings all over the cap. I would imagine a conservator could remove these.
Comments
The International Quilt Study Collection in Nebraska has many examples of broderie de Marseille.
The Quilter's Guild Collection
www.quiltmuseum.org.uk/collections/heritage/18th-century-corded-babys-cap.html
Similar shape to cap in Marseille. The Cradle of White Corded Quilting by Kathryn Berenson, p 94. 4.16b. More information on p 82.
Price: £850 | $1,110 | €1,010
Ref N°: 1165