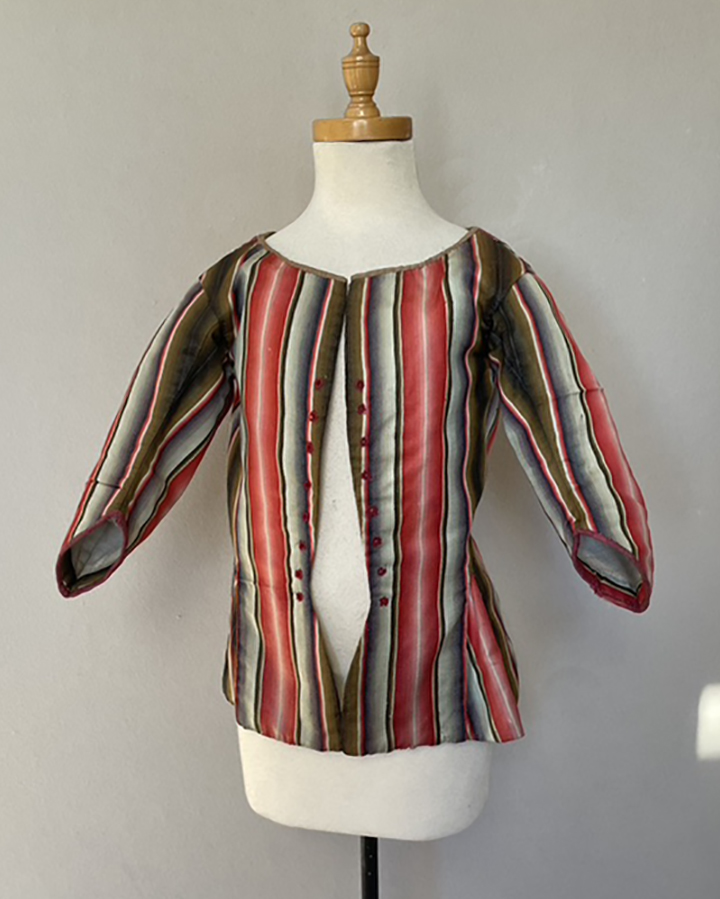 SOLD
Rare Norwich Caracao
1720s/1770s
It is of course the two marvellous rare worsted striped callimancos fabrics which makes this caracao so interesting. The fabric is around 1720/30s, but made into the caracao probably in the 1770s. As you will see the front and back are of different stripes and quality of worsted wools. The front is of a much finer quality. Also different coloured tape has been used for the neck and cuffs. Clearly the person who made this was fairly poor and used what fabric was available, a good case of Make Do and Mend. An interesting piece of everyday dress.
This hard wearing fabric was woven in Norwich and exported to The Netherlands, amongst other places, where it was made into skirts and worn by rich merchants wives. During the 19th century farmer's wives would re make the 18th c fabric into caracaos or underskirts.* Gentleman also used this fabric in the 18th century for waistcoats and jackets. Callimanco is a glossy woolen fabric of satin weave with striped or checkered designs manufactured from the 16th to the 19th centuries.
The skirt illustrated is from the Fries Museum in the Netherlands.
Cataloguing
The round neck bound with a linen tape in a light bronze shade, front opening with eight eyelet holes, hand embroidered, the below elbow sleeves bound with a red linen tape, the skirt sides with gores, the front in a glazed crisp Norwich wide shaded worsted stripe in scarlet, bronze, dull purple and palest green, the back with a coarser pink, bronze, red and dull purple shaded stripe, lined with brushed linsey woolsey.
Length shoulder to front bottom 21 in; 55 cm
Underarm 30 in; 77 cm.
Condition
Underarm left side with a little damage 2.5 x 3 cm. Right hand underarm badly damaged and needs conservation, so do ask for photos. Little wear to hem area. The back neck area has a few holes, probably moth. Again ask for photos. There is also the odd small hole to the lower back. The inside linsey woolsey is very grubby.
Comments
The skirt shown is from the Fries Museum, The Netherlands.
See ARTICLES - Norwich stuffs.
My thanks to Michael Nix for confirming dating of the fabrics.