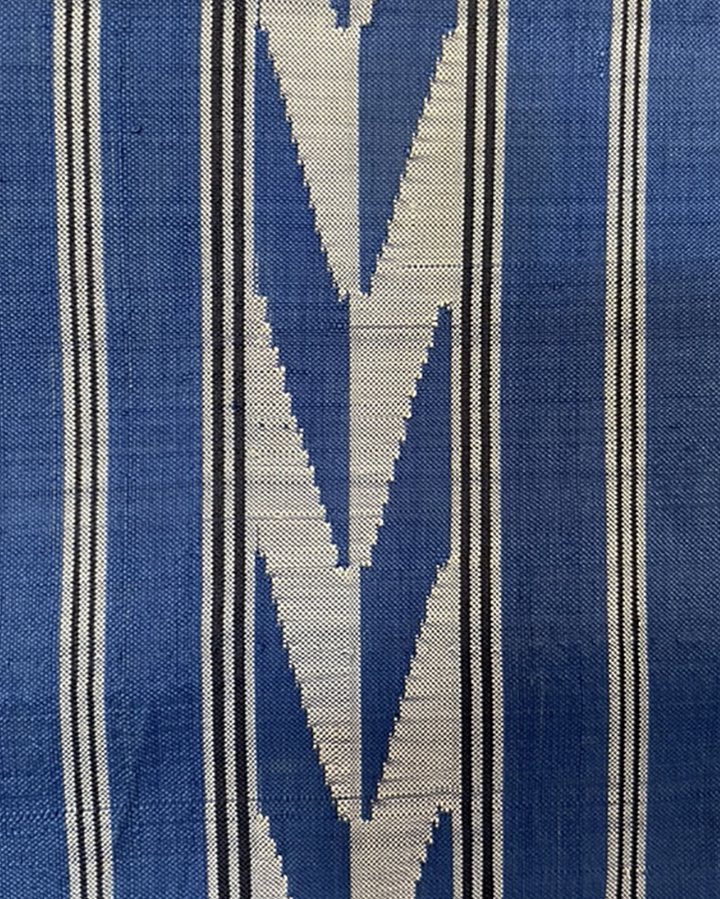 Pair Syrian Silk Lengths
Mid 20th c
Very unusual to find a pair of shawls. These are similar to the aba from Aleppo region of Ottoman Syria. Lovely colouring. Highly decorative for draping.
Cataloguing
Tapestry woven silk, the centre top and bottom of each long side with a plain mid blue panel, flanked by a line of zig zags, surrounded by vertical stripes with an alternating blue and silver arrow design, each end with a short twisted silk fringe.
99 x 42 in; 2.52 x 1.07 m
Condition
Both shawls appear fresh and are strong.
Shawl 1 - Each of the plain centre top and bottom sections has discolouration and a little fraying, as well as some dark brown pencil head marks. Has a small mid brown stain 2 x 1 in; 5 x 2.5 cm to the lower right hand side as you look at the shawl. There are also two small mid brown marks, the size of the end of a pnecil a little further in. The lower centre has a 6 x 8 in; 15 x 20 cm stain to the lower area.
Shawl 2 - The top border area has some markings, mid to dark brown. 1 x 3/4 in; 2 x 2 cm; Another small area with pink dye. The centre of the top plain section has a small light brown stain 3/4 x 1/2 in; 1.5 x 1.5 cm. A couple more very small pinhead type stains.
Do ask for photos of the damage..
Price: £650 | $790 | €740
Ref N°: 8442C