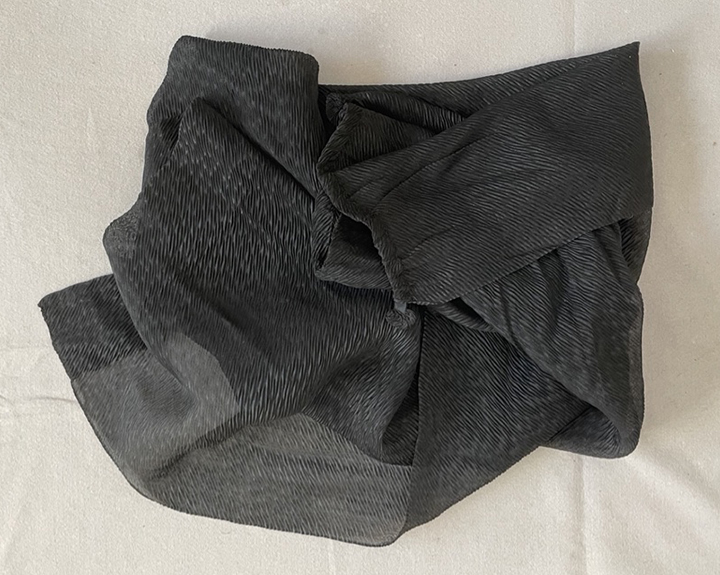 Norwich Mourning Crape
mid 1850s
I have only had about four crape mourning veils and it always amazes me that these were kept, because they are fairly plain and unexciting. Millions would have been made during the Victorian period, when one often went into mourning for two years. I have never quite understand their design, which appears to be like an apron with its drawstrings. I think maybe that part pulled together and was laid on the back of the bonnet. Any thoughts?
Millions of these mourning shawls were produced but I have only seen a few. I suppose because they were black they were not a desirable item to keep. Known in Norwich as Black Branch of textiles. Crape, pleated, chevroned and twisted into fancy designs was produced for veils. Crape derived from the latin Crispare, meaning to curl. In Lou Taylor's book she says it is probable that mourning crape originated in Bologna, Italy, which by the 18th century was famous for its crimped crapes. Crimped and dense it would have been worn for deep mourning**. The Norwich Crape Company situated at St Augustines Factory, Norwich may have made this one.
The following is from Ursula Priestley's excellent article: Crape was made from worsted and silk twisted yarns with differing degrees of torsion, which caused puckering in the later stages of manufacture. The crimping machine consisted of two rollers, the upper one of brass, heated from within, and which bore an engraved design or 'figure', and a lower one, made from compressed paper, on which the figure was embossed. The crimped crape was rolled loosely on to a large roller and passed to the dyeing vats, immersed in a mixture including valonia, obtained from acorns or acorn cups, often used as a black dye. The limp crape was stiffened with starch and sometime treacle! *
Cataloguing
Crimped silk crape with a narrow turned top with a drawstring ribbon of same fabric, the bottom with a deeper turned hem.
33 1/2 x 43 in; 85 x 1.10 m
Condition
There is an area of wear to the centre 2 1/2 x 1 3/4 in; 6 x 5 cm
Comments
* Norwich and the Mourning Trade by Ursula Priestley. Article in Costume no 27 - 1993.
**Mourning Dress by Lou Taylor.
There are examples in the Bridewell Museum, Norwich.
Price: £150 | $180 | €170
Ref N°: 1139