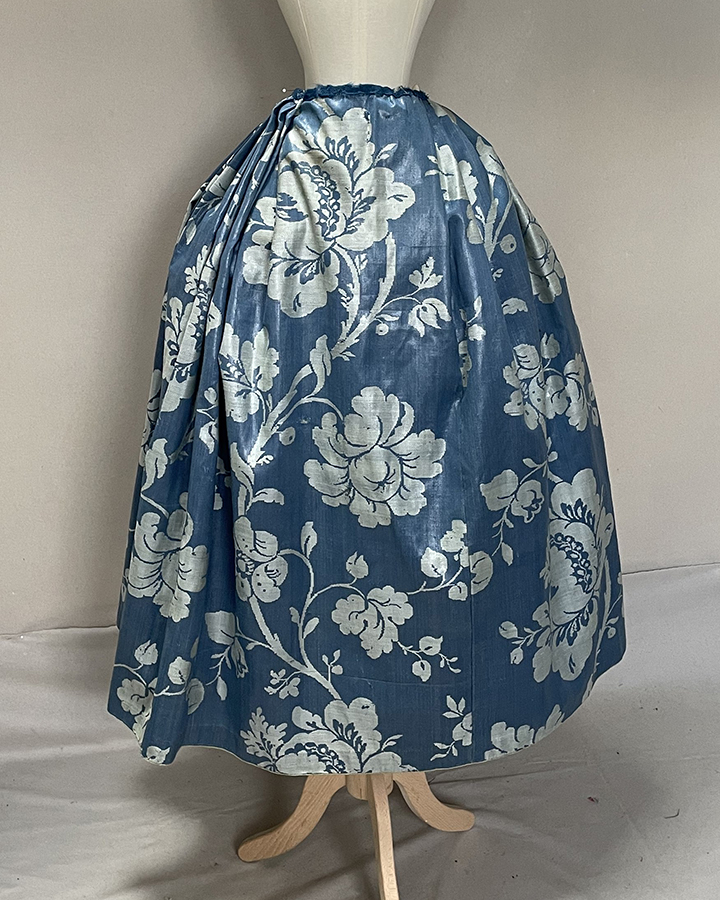 SOLD
RARE Norwich Damask Skirt
1730s
Glorious and stunning in the glaze, design and colour. There are 8 panels selvedge to selvedge in the skirt. The damask worsted fabric was known as spigeldamast or mirror damask and as flowered satin. The glaze or calendering is like a mirror and was achieved by placing the completed fabric through heated cylinders. Calendering makes the fabric dirt resistant and therefore stronger. The term worsted refers to a type of high-quality fabric made from combed, long staple wool yarns that are lightly twisted prior to weaving and which produce a smooth shiny surface. In the eighteenth century, Norwich and Spitalfields were the main centers of worsted manufacture, with many master weavers settling from the Low Countries, and later Huguenots. We know nothing about the Norwich designers.
In the book below* there is a man's morning gown, a Sjamberlouk made from a not dissimalar design to the skirt. I have sold three other skirts, one with a very similar design to the morning gown, all with huge repeats. The book states that much woollen damask came from Norwich. Because of the clientele's conservative taste, the large floral and fruit motifs which had come into fashion in the second quarter of the 18th century were still being supplied at the end of that century, but our skirt is definately early 18th century.
You will notice, like the Chinese export silk damask skirt on the website, which was made in The Netherlands, both have the back pleats laying in one direction.
Cataloguing
The mid blue worsted wool with a huge design repeat of gigantic flowers, leaves and buds on a branch meander, woven in silvery/white wool, the waistband of blue wool tape with the front panel centre flat with pleats either side, the left hand side with pleating to the left, a slit (for pocket access) edged with fine pale banana coloured cord, the right hand side and back with pleating facing to the right, all in same direction*, the hem with similar pale banana shaded worsted, no lining.
Waistband to hem 37 1/2; 95cm
Waist 26 in; 66 cm.
Pattern repeat length 32 in; 82 cm. One design each width.
Fabric width 18 1/4 in ; 47 cm. 6 complete widths.
Condition
The woollen waistband is quite worn and needs conserving. There are two 5 mm feint light brown small marks 8 cm below the centre front waistband. There are two small holes centre front. There is damage at the back hem 4 x 3 cm presumably from the heel of a shoe, and a 5 x 1 cm to the left of that hole. Two other pinhead holes elsewhere.
Comments
I also have a skirt made in The Netherlands, but of Chinese silk damask, with the same pleating style and cord trim.
*Aristocratic Attire Bianca M du Mortier. Rijksmuseum 2000. See fig 34.
See my article on Norwich Wool Textiles in the ARTICLES section of the website.
The Fabrics of Stuffs - Ursula Priestley
https://www.zuiderzeecollectie.nl/object/collect/Zuiderzee_museum-3134
Aangekleed gaat uit streekkleding en cultuur in Noord Holland ( regional clothing and culture in North Holland ) 1750 - 1900. pub Wanders, Zwolle, p 37