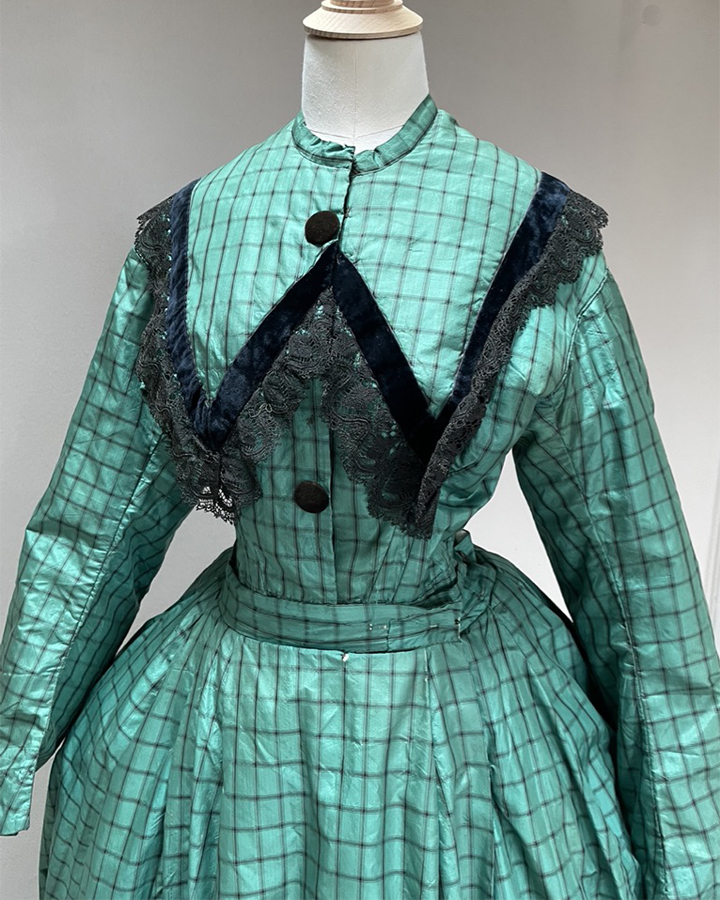 Silk Taffeta Two Piece
1865
Stunning colour and lovely rustle of silk taffeta. The fact that this two piece has machine stitching means it must have been made by a professional dressmaker. Only they would have been able to afford a sewing machine at this period.
From the collection of the late Mrs June Jeffreys (1928 – 2016) who married George William Eyre Jeffreys (1931 - 2019) in 1960. The house Newhouse, Redlynch, near Salisbury, Wiltshire, has been in the family for 400 years and many of the dress collection was inherited through Mr Jeffrey's family. Mrs Jeffreys also bought at auctions.
Cataloguing
The emerald green silk taffeta with a light black check, the bodice with round neck and front opening, black hooks and embroidered loops for closure, a black velvet ribbon edged with black machine lace in a V shape applied to the bodice front, two boned darts either side of the opening, side boning, the back with curved seams from the waistband to middle arm, shaped sleeves with piping to the shoulder, black ribbons to the cuff area. the waistband with three brown buttons to the back (to secure the skirt), lined with cotton, hand stitched apart from the sleeves which are machined.
Underarm 33/34 in; 84/86 cm
Waist 24 in; 62 cm
The skirt made up of eleven sections, a watch pocket off the waistband, and a large pocket to the side, the waistband with three holes for the buttons on the bodice, huge gathered skirt, the back much longer than the front, the hem with a lime green wool dust gatherer, lined in cotton, all machine stitched.
Hem circumference 13ft 10 in; 4.2 m
Front waist to hem 44 in; 1.12 m
Back waist to hem 55 in; 1.4 m
Condition
The black ribbon and lace. After consultation with a friend, we decided they were original. The bodice has slight underarm markings. Rest of bodice hand stitched. The inside bodice has some markings.
The skirt. There is a a small L shaped tear at the side opening, which has been poorly repaired. This could be improved on. Plus a little wear to a couple of the folds and a small tear to the waistband. The dust gathered has some moth damage. Do ask for photos.
Price: £450 | $560 | €520
Ref N°: 8588