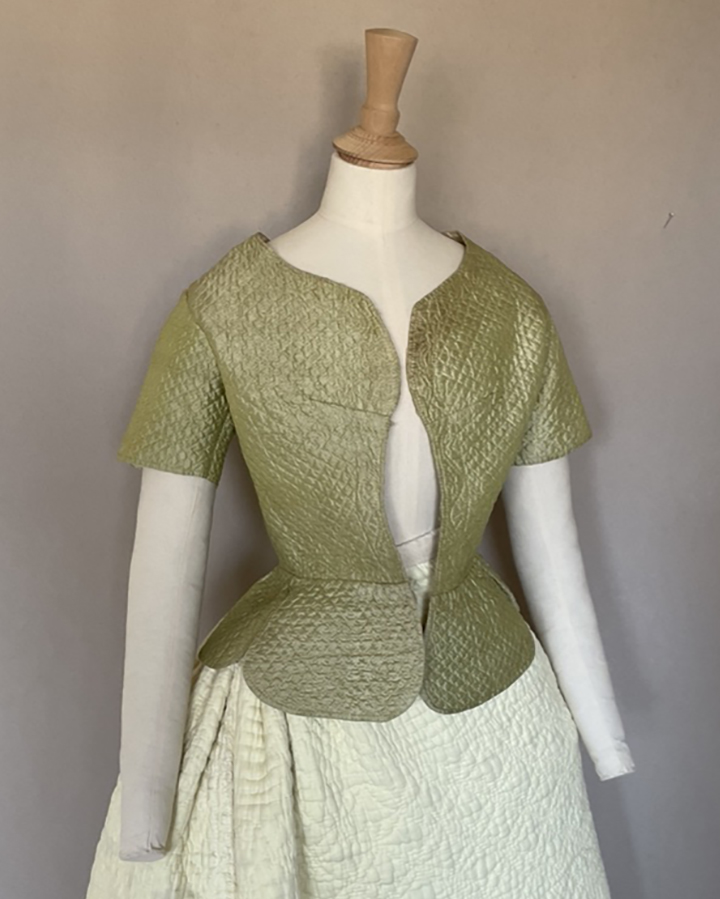 Rare Sleeved Jumps
1740s
Jumps or waistcoats, were unstuctured and worn for warmth and support for informal wear at home together with a patterned, plain or quilted petticoat. It must have been wonderful to remove the restrictive boned stays or corset and wear something more comfortable. Working women would have also worn jumps, being less restrictive to work in. There's would have been cut down from other garments ie a quilted petticoat.
Our jumps were specially made with their narrow curving borders. This garment seems to have been fitted to the body after the quilting, which suggests a kind of demi-couture/made to measure construction. Not being very decorative jumps tended not to be kept, so few exist in museum collections. I have not found an actual pair with sleeves, only the delightful example in the painting shown*
The jumps and other costumes and textiles came from an English Manor house built in 1550 but without any indication of ownership or history. Provenance can be given to the buyer.
Cataloguing
Of pale green/yellow silk, the round neck curving over the breast and indenting slightly across the rib cage, with a narrow meander border, darts to bust area. The skirts with six panels curving out over the hips, but with no border. The main body of the jumps with small diamond quilting one cm square, the shoulders with narrow inset panels, the back with simple diamond quilting, short sleeves, quilted in yellow twisted silks and lined with beige natural cotton.
Bust approx 34 in; 87 cm. Length back neck to hem 16 1/2 in; 42 cm
Condition
The silk is in very good condition. Slight slight light markings to top front curve. I feel sure a conservator could remove this. Two small holes to lower right hand flap (as you look at the piece), one above the flap and one below, exposing the cotton beneath. The jumps were lined with wool which has now worn away, although slight areas where it can be seen.
Comments
* Jumps with short sleeves - Portrait de jeune fille en costume d'Arles, 1779, Antoine Raspal, Collection Musée Granet, Aix-en-Provence. Found on my18thcenturysource website.
Jumps with short sleeves can be found at the Carl.Kulturen museum in Lund, Sweden.www. carl.kulturen.com
Fashion in Focus 1600-2009 Grace Evans p 45
What Clothes Reveal by Linda Baumgarten p 148 for similar.
The Corset by Valerie Steele, p 27
***Jumps with long sleeves in painting illustrated dated 1719 by Jan Joseph Horemans Diner on a Terrace. http://www.artnet.fr/artistes/jan-josef-horemans-the-elder/eine-vornehme-gesellschaft-auf-einer-terrasse-Lf_wV9pgkfpMlcn6pxu8DQ2 - painting shows a long sleeved pair of jumps.
www.larsdatter.com/18c/womens-waistcoats.html
https://www.youtube.com/watch?v=c_N19hPINPU
http://carl.kulturen.com/web/object/2517
For quilted bedjacket: https://www.metmuseum.org/art/collection/search/84312?rpp=20&pg=7&ft=%2A&deptids=8&when=A.D.%2B1600-1800&img=1&imgno=2&tabname=related-objects
Price: on request
Ref N°: 8651